Orofino, Idaho-Dworshak Reservoir-October 1-2, 2022.  Idaho hosted the District 19 2022 Semi-Final Championship which is now in the books.  Some amazing fish were caught and memories made by all TBF Anglers.  Pre-fish weather had a good solid rain Thursday prior with the remaining days through the tournament in the mid-70's with some clouds on Saturday and clear on Sunday.  Water temps were approximately 60 degrees plus.  The Best Western Lodge at Rivers Edge in Orofino was the site for the registration, banquet and Day One pairing announcements.  The Best Western provided a terrific taco Bar to start off the weekend.  There was a lot of comraderies and catching up between the two States Anglers.
Dworshak Dam is on the North Fork of the Clearwater River in north central Idaho about four miles northwest of Orofino and impounds the Dworshak Reservoir which is 54 miles long.  With a height of 717 feet, Dworshak is the third tallest dam in the U.S. and the tallest straight-axis concrete dam in the Western Hemisphere.  Smallmouth in the reservoir feed on kokanee almost exclusively and as a result, they are nomadic and often very deep. The reservoir holds Idaho's largest small mouth record at 9.72 lbs.
The end of Saturdays weigh-in, found Montana Boater angler, Yeej Moua, firmly in first place with a weight of 22.71lbs. followed by Idaho Angler, Loren Torok in 2nd with 17.82lbs. and ID angler, Denton Crofts, close behind at 3rd with 16.76lbs.  However, ID Boater Keith Hoffman took the Big Fish for the day with his wopper 7.77lb. smallie weighing his bag in at 15.24lbs.
The Co-Anglers were led by Idaho High School Qualifier Angler, Kyle Luis, with a respectable weight of 12.64lbs. with a 3.75lb. big fish.  He was closely followed by ID Angler Chris Felty weighing 11.91lbs with a 3.31lb. big fish and in 3rd place, another ID High School Qualifier, Dallon Hoskins,  with 11.26lbs. and weighing the Day One Co-Angler Big Fish at 3.84lbs.
With Day Two weigh-in, Boater Yeej Moua, did not disappoint with a 2nd day bag at 28.20 for a total weekend weight of 50.91lbs.  Montana Boater, Karl Okerman, did his best by bringing in the 2nd largest Day Two weight at 25.48lbs. with a 7.92lb. big fish, finishing with a 2 day total at 41.83lbs. Not to be outdone, Idaho Boater (Big Fish) Loren Torok weighed in the Two Day tournament winning Big Fish at 8.43lbs. and placed 3rd overall with a total 2-day weight of 35.42lbs.
On the Co-Angler side, Idaho's Tony Jennings blasted in with a total 2 day weight of 17.78lbs. and weighing a 6.15lb. big fish finishing the tournament with total winning weight of 26.37lbs. Idaho High School Qualifier, Kyle Luis, sat solidly in 2nd place with a total 2 day winning weight of 20.31lbs.  Mr. Consistent, Montana Co-Angler, Jason Anderson finished 3rd overall with a winning weight of 19.23lbs. and is headed to TBF Nationals next spring.
Congratulations to the Boater and Co-anglers headed to TBF Nationals Spring 2023.  Montana will be sending Boater Yeej Moua and Co-Angler Jason Anderson.  Idaho is sending Boater Loren Torok and Co-Angler Tony Jennings to represent at Nationals.  Loren is a returnee having fished Nationals twice as a boater and once as a Co-Angler.  Justin Soppe was the top finishing Ranger Boat owner and will receive the $250 Ranger contingency bonus.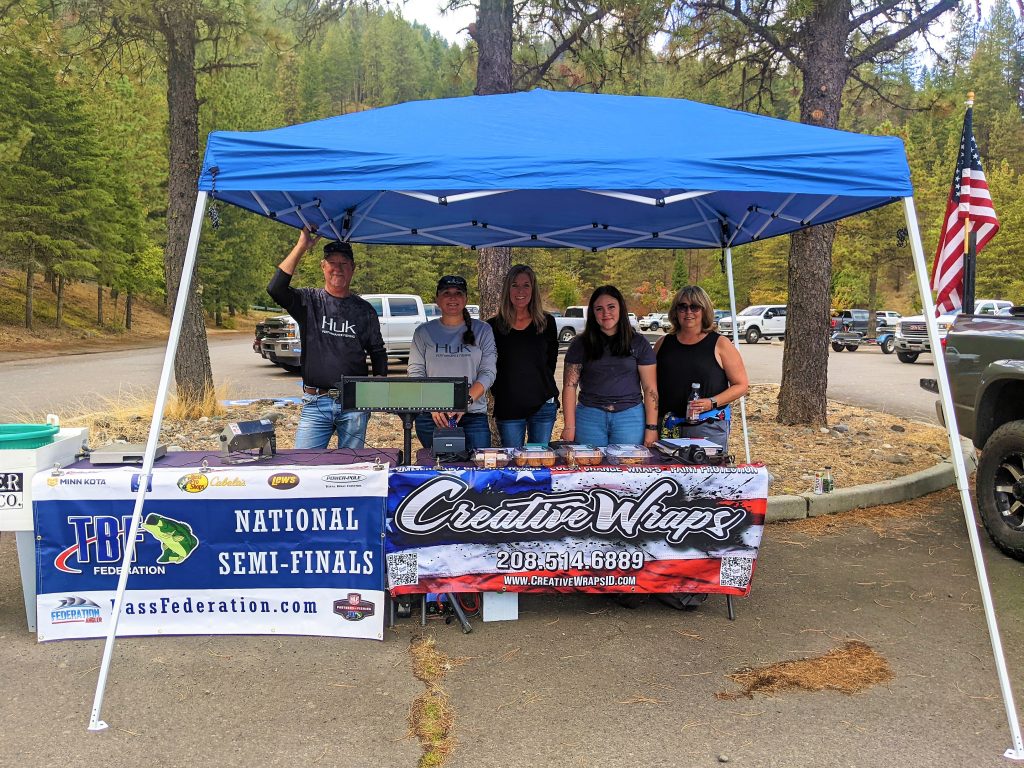 A big shout out to Derick and Susan Rader of Raider Baits for helping out with the weigh-in.  And "Thank You" goes out to volunteers Bobbie, Russ and Susie Littlefield, Monica Springer, Rodney Ryza and Shane Torok.  And to the entire field of TBF Anglers, "Great Job" for qualifying to fish the 2022 ID-MT Semi-Final Championship.  We will see you next time!