2019 TBF Junior World Championship
Arkansas River, North Little Rock, AR.
Registration: Wednesday, August 7th
Tournament Dates: August 8,9,10 – Thursday, Friday, full field competes with their qualified team mate from their own boats with their own boat captains. The field is cut to the top (1) team from each division for Saturdays final championship round. ALL teams will participate in the parade across the FLW Cup main stage in front of thousands of spectators on Saturday!
The top TBF Junior Angler TEAM from each State Federation earns a spot to compete and have a chance to fish for thousands of dollars in scholarships in the division champions finals on Saturday.
TBF & FLW conduct a National Tournament for the top junior anglers of each state federation that are 15 year old  or younger.(as of Aug 31 of the JWC tournament year) This tournament is the TBF Junior World Championship and is always held in conjunction with the prestigious FLW Cup. The 2019 JWC will be held in in North Little Rock Arkansas.
2018 TBF Junior World Championship
Lake Hamilton, Hot Springs Arkansas
Previous Junior World Champions
Year

Age: 15 and Under Team Event

2018
Trey McKinney  –  James Baker
Illinois Jr Bass Federation

Year

Age: 11-15

2017
Syler Prince, Palatka FL (Southern Division)
2016
Fisher Davis, Mount IDA, AR (Central Division)
2015
Tyler White, Oak Hill, WV
(Mid-Atlantic Division)

Year

Age: 11-14

Age: 15-18

2014
Joe Stolski, Baxter, MN
(Northern Division)
Perry Marvin, Peru, NY
(Eastern Division)
2013
Luke Loewe Ripon, WI
(Northern Division)
Jonathan Ladner, Thorofare, NJ
(Mid-Atlantic Division)
2012
Max Danese, MA
(Eastern Division)
Andrew Guilliams, MO
(Central Division)
2011
Derek Davis: Clinton, UT
(Western Division)
Nicholas Deering: Portland, ME
(Eastern Division)
2010
Shane Edgar: Glendale, AZ
(Western Division)
Greg Zellers: Winamac, IN
(Northern Division)
2009
Daryk Eckert: Stockport, OH
(Northern Division)
Zack Messer: Aiken, SC
(Western Division)
2008
Lowell Turner: Bradford, RI
(Eastern Division)
Kyle Raymer: Brandenburg, KY
(Southern Division)
2007
Dylan Peppers: Good Hope, GA
(Southern Division)
Shane Lehew: Charlotte, NC
(Southern Division)
2006
Jonathan Jones: Chickasha, OK
(Central Division)
Josh Wagy: Dewitt, VA
(Mid-Atlantic Division)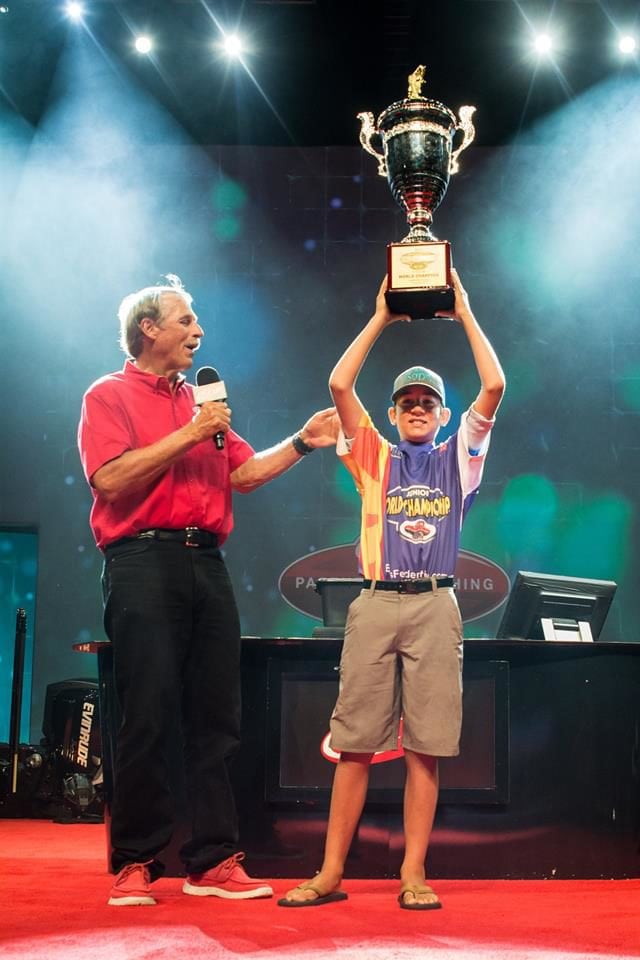 Syler Prince, Palatka Florida 2017 Reigning 15 and under Champion.