Half the Day One Leaders Remain on the Final Day of the 2019 Federation National Championship
Day two of the 2019 Federation National Championship wrapped up today on Kentucky Lake in Paris State Park Marina in Paris, Ky.  Seven anglers held on to their leads, while seven emerged from the ranks to claim division champion titles.  All 14 Division Champions will advance to the 2019 BFL All-American.   Tomorrow, one National Champion boater and co-angler will be crowned "Living the Dream" anglers and they'll not only get the opportunity to fish on the FLW Pro circuits, but they'll also advance to the 2019 Forrest Wood Cup. 
Leading it all is Preston Craig from Tennessee who climbed from the 12th slot overall with four bass both days weighing 12 pounds 11 ounces and 19 pounds 7 ounces making his two day total 32 pounds 2 ounces.  Craig is representing the Southern Division and this is his first time to qualify for the national event.   
"It was a grind all day. I only had one fish until 2 o'clock," Craig said.  "These fish aren't wanting to eat real, real good but when you hook one it's usually a good one.  I was lucky enough to get three more and hopefully, it will pan out for tomorrow if they hold up and I just keep doing what Im doing." 
Tomorrow, there's a leering chance of rain – and lots of it.  "It shouldn't affect my fish if it rains.  Now, if it rains hard it might a little more but they should be just fine.  I'm just going to go fish hard.  I'm going to keep throwing what I'm throwing; just grind – that's all you can do." 
In his fifth year fishing with TBF and after four state tournaments and two National Semi-Final events he is on the grand stage.  "I'm beyond excited, it's something else," Craig continued.  "My first time being here; It's just special.  I want to thank my wife for grinding it out with me, doing what I love to do and my Dad for even getting me into fishing when I was younger."
Craig was not only excited during his interview, but also determined.  When asked if could keep the lead he said yes, when asked if he would fish the FLW Tour as a Pro angler for a year he said, "Oh yeah, I'm going to fish.  My work will get a two week notice."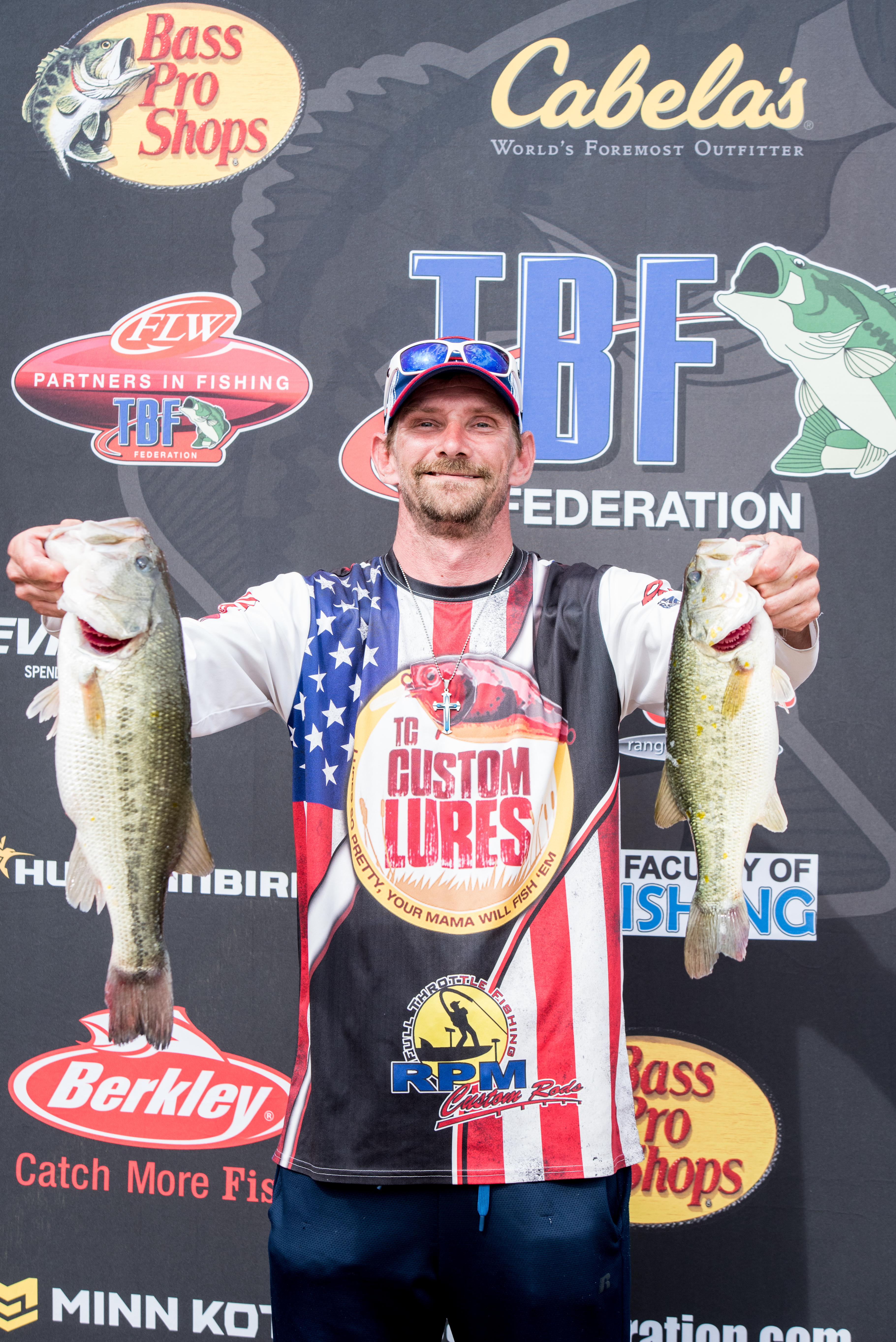 Leading on the co-angler side is John Fuchs from Indiana representing the Northern Division.  Fuchs was two pounds out of the lead yesterday with four bass for 13 pounds 8 ounces.  He added three bass for 9 pounds 8 ounces today to top the field with 23 pounds.  This is his first time making nationals and he also advanced from his first TBF National Semi-Final event. 
"I've been fishing a long time. I started with my Dad down in Florida saltwater and bass fishing in the canals,"  Fuchs said.  "Then, I came up North and started bass fishing.  But, I didn't start tournament fishing until 5-6 years ago so, I'm kinda new to tournament fishing. I'm just learning as I go."
Leading nationals as a co-angler going into the final day, he's doing quite well at it.  "I have to adapt being a co-angler.  On day one my boater was throwing a jig, day two another one was throwing spinner baits and rattle traps.  In the back of the boat you have to adapt there's no way around it."
Fuchs is more accustomed to clear waters and hunting for smallmouth, which makes his performance on Kentucky Lake even more impressive.  "I'm mind blown.  I never in a million years would have thought I would be in this position to do what I'm doing; doing what I love," Fuchs continued. 
"TBF and Ranger – the guys put on a good show, great tournaments. I'm having a blast.  I've met so many people.  People I've seen on TV, too – like hey, I know you!"
Fishing the TBF and returning next year is definitely a priority for Fuchs now although his family will always be the forefront.  "I just want to thank my wife for holding down the house and my twin 12 year old boys.  My family is my life. I'm just blessed – my insides are going crazy right now."
When asked if Fuchs had plans to fish the "Living the Dream" co-angler package should he win he didn't hesitate.  "Oh yeah, I already quit my job," he laughed. 
The final day of the 2019 Federation National Championship begins tomorrow on Kentucky Lake as 14 TBF Division Champions set out for all the glory.  The TBF Federation National Champion boater wins the $120,000 "Living the Dream" prize package to include a prize check, fully paid entry fees on the FLW Tour as a Pro, travel expense stipends for each event, and use of a "Living the Dream" wrapped Ranger boat for the year.  The National Champion co-angler will receive a $30,000 "Living the Dream" prize package with prize check and fully paid entry fees into the FLW Series division of choice.  The national champion boater and co-angler will also advance to the world championship of bass fishing, the Forrest Wood Cup, for a shot at winning the biggest payday in bass fishing.