When it is your "time" to win.
Hirt puts the hurt on the bass at Lake Conroe, takes TBF National Champion Title, while Proctor coasts to the Co-angler National Champions spot.

Conroe Texas, March 4, 2022 – For Release
Nebraska's Jordan Hirt made his first trip to Lake Conroe for the 2022 TBF Federation National Championship this week and set not one, not two, but three personal records.
Living in Iowa and fishing for the Nebraska TBF Federation, fishing for big fish, really big fish, is just not done there as they are not very common in those states. That is not the case on Lake Conroe.
Jordan Hirt's first "personal best record" came in the form of the biggest bass of his life on one of the events practice days when he caught an 8-pound 4-ounce fish. It was a good start, maybe even an omen to his first foray into the big fish waters of Conroe.  That milestone would not last long as it turns out.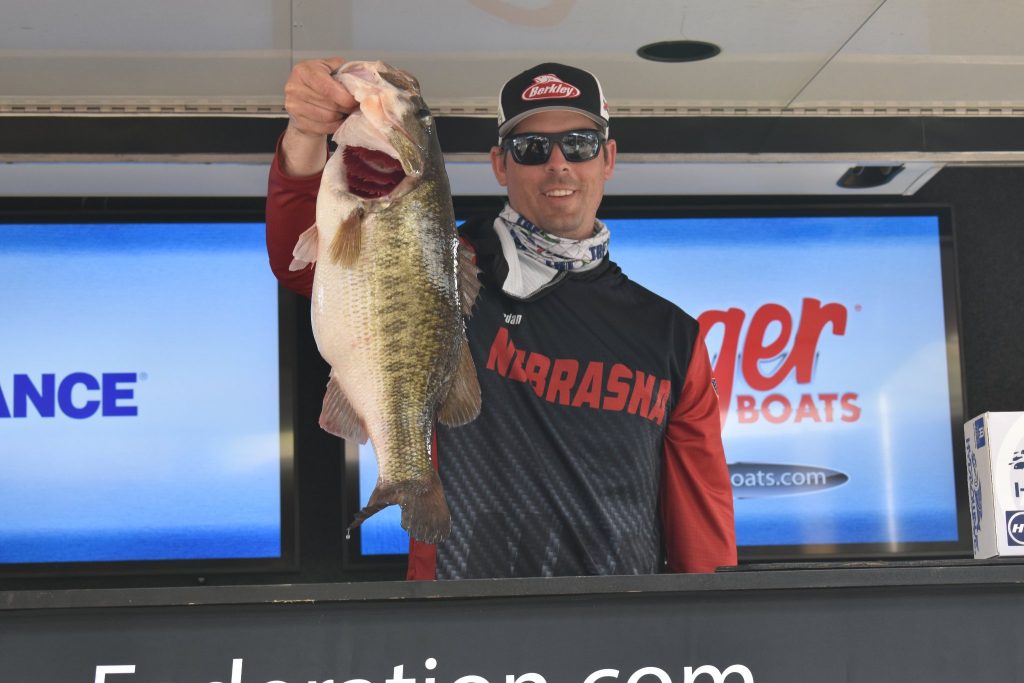 On day 1 of the tournament Hirt who drew out as Boat Number 1 a number, he would come to hear again and again, during the week. Hirt was using his Lowrance Active Target to fish deep brush piles in 14 foot of water while using a spinning rod and 20-pound test line with a 1/8th ounce Berkely Fusion Swimbait. The key according to Hirt was ticking the top of the brush as he went by. One such 'tick" wound up with him landing the number 1 biggest fish weighed in during the week a 10-12 ounce Conroe lunker for his second "personal best record" in a span of 4 days. That fish anchored his day 1 bag and while Tennessee's Joey Rumsey lead after day one with 19-10 ounces, Hirt was in second with 18-15.  That would be the last time "second place" and Hirt's name would be mentioned together during the event.
Day two of the event is "cut day" the field is cut down to only the top boater and top co-angler from each of TBF's 7 geographical divisions, these Division Champions advance to the day 3 finals.
On Day 2 Hirt brought in 17-01  on his Berkley Fusion Jig and Brush pile pattern making his two-day total 36 pounds even and enough to lock up the #1 spot overall and advance to represent the Central Division in the finals. Kentucky's Bill Buckner representing the Southern Division moved into the second-place spot with 30-13 ounces while Paul Bottali from Pennsylvania representing the Mid-Atlantic division jumped into 3rd place overall with the tournament's biggest bag of 22-07 pushing his two-day total to 30-07. Scott Bonnema, from Minnesota, lead the northern division wire to wire moving on to the final day, while next to make the cut was Matthew Marinelli, a Connecticut Federation member representing the Eastern Division.  California's Eddie Hinojosa, representing the Southwest division would fish the finals as would Montana's Randy Siemens from the Northwest division.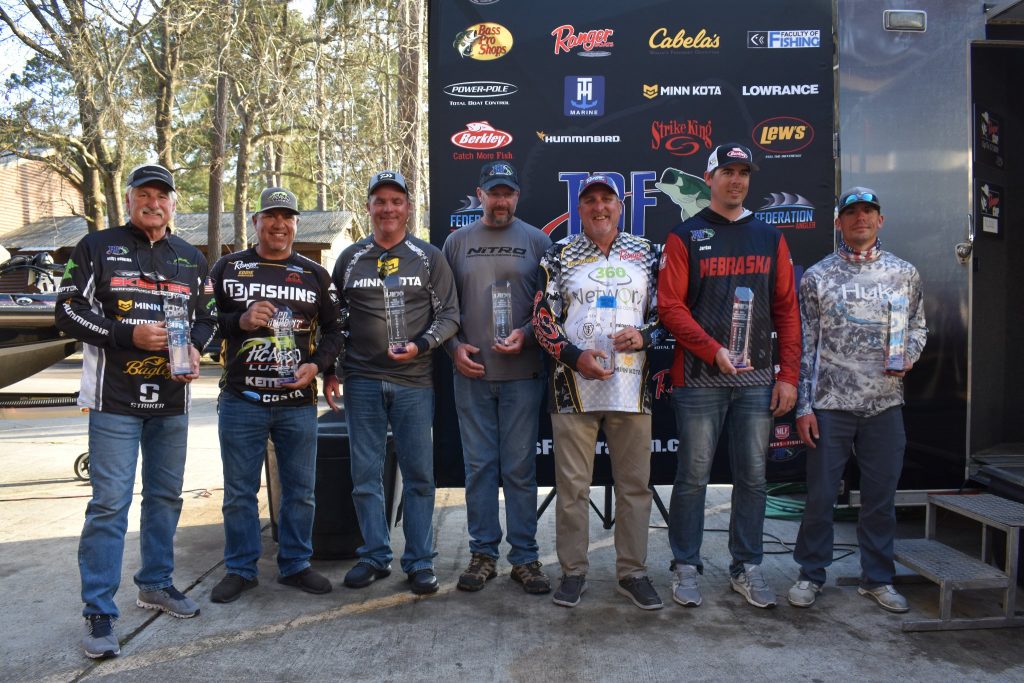 All weights carried forward into day 3 and as the weigh-in progressed Scott Bonnema brought in that day's biggest bag of 18-03 pushing his total to 44-10 putting him in the lead. The last angler to weigh in was day 2 leader Jordon Hirt who only had 3 fish, he needed them to weigh more than 8-05 finish on top, they tipped the scales at 11-01 giving Hirt the win with 47-01 and his third "Personal Best", the $125,000 TBF Living The dream Prize Package and the title of National Champion, along with $20,000 in cash, $5,000 in paid entry fees to fish whatever he wishes to Live HIS Dream, a new fully rigged Ranger 520R with 250 HP motor, Lowrance electronics, Minn Kota Trolling Motor, Tracker Lithium batteries, Power Poles, and more including advancement spots to the BFL All-American and the Toyota Series Championship as defined below.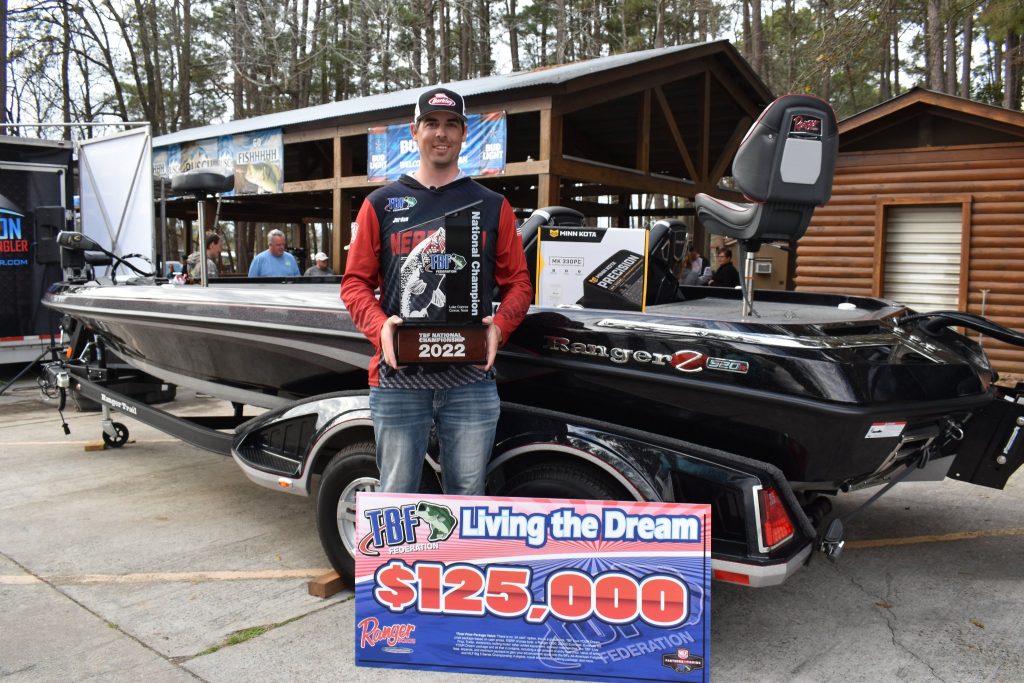 On the Co-angler side, the performance was equally impressive. South Carolina's Marc Proctor representing the Southern Division weighed in 13-00 even out of the back of the boat to lock up the day1 lead, on day 2 Proctor weigh 9-05 to bump his total to 22-05 which was enough to stave off a run by New Mexico's Riley Nielsen who weigh-in 16-14 but blanked the first day and Vermont's Brendon Vinton who qualified through the SAF High School Program who weigh 15-13 on day 2 but like Nelsen blanked on day 1.
Which meant qualifying for the co-angler finals on Friday was Proctor from South Carolina representing the Southern Division, New Mexico's Nielsen representing the Southwest Division, Vinton from Vermont representing the Eastern Division, West Virginia's Jason Suter from the Mid-Atlantic Division, Northern Divisions Max Stawinoga from Wisconsin, Dez Ruffin from Washington and the Northwest Division and Louisiana's Frank Ducote, would represent the Central Division on day 3.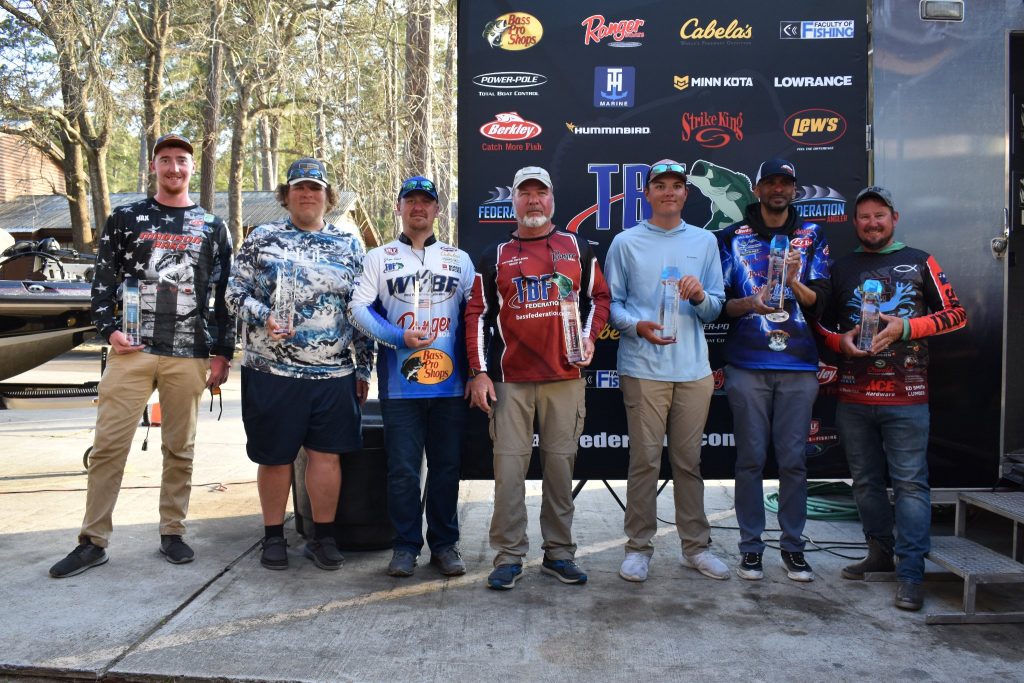 On the final day 5 of the 7 co-angler finalists weighed in and there were only two left, New Mexico's Riley Nielsen who had two fish, and the leader Marc Proctor who blanked for the first time in the event. Nielsen's two fish needed to weigh 5-08 to take the lead away from Proctor and they weighed 4-06. Proctor saw the championship slipping away all day without any keeper fish, little did he know he would coast to the Co-Angler National Championship title based on his first two day's work in the event.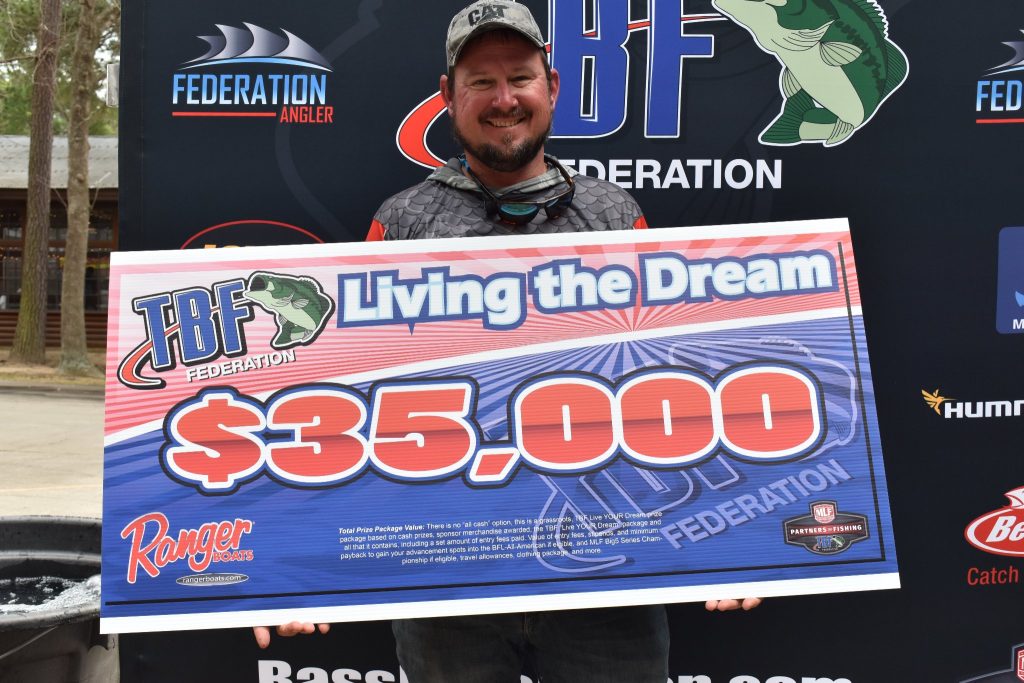 The Co-angler National Championship title comes with a $35,000 prize package.  It included $20,000 in cash, his Co-Angler National Championship Trophy, a $2,500 entry fee stipend to fish whatever he wants to live his dream, along with a good start on equipping a boat including a MinnKota trolling motor, Lowrance HDS LIVE unit, a Power pole Certificate, a $500 TH Marine package a Humminbird Helix 10, a Lews and Strike Prize package and a Berkley prize package and more. PLUS,14 anglers 7 boaters, and 7 co-anglers earned a berth into the 2022 BFL All-American Co-angler and both National Champions earned a berth into the 2022 Toyota Series Championship.
RANGER FEDERATION BONUS dollars were also awarded to the top Ranger boat owners on the boater and co-anglers' side.  For the boaters, California's Eddie Hinojosa finished in 7th place and earned a $500 bonus through the RANGER FEDERATION BONUS program. On the co-anglers side, Louisiana's Frank Ducote finished in 6th place, and as a Ranger Owner that earned him a $500 bonus.
The event was filmed for television to highlight TBF Federation anglers and our program and will air on Federation Angler TV on the Pursuit Channel, on Outdoor Action TV, and various other networks. In total the tournament awards for this event set another Federation record and was over $397,000 in cash, prizes, stipends, and bonuses, with every angler receiving a payout of some amount, and it included paid lodging for the official days for all anglers, Federation angler rods to all, Bass Pro Shops and Cabela's gift cards to all anglers, cash boat gas stipends to all boaters and other championship memorabilia.
To find out how you can get started fishing TBF and earn a spot in the 2023 TBF Federation National Championship go to bassfederation.com to contact us or click a link to contact your State Federation President.