On March 27th 2019, 32 Teams left Mountain Harbor Marina in a quest to become the TBF of Arkansas Junior State Champion. Lake Ouachita proved to be stingy with what she would give to our anglers.
Lake Ouachita only gave up 5 limits that day. But these young anglers proved that they were up for the challenge, with almost all teams weighing fish.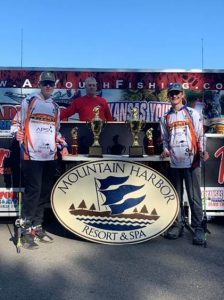 Casey Tissue and Clayton Vote, of the Central Arkansas Youth Fishing Club, were crowned Arkansas Junior State Champions with an impressive 5 fish limit weighing in at 12 pounds 11 ounces.  This was their second attempt to become junior state champions as a team. Casey has attempted on three different occasions. Both anglers have placed respectively in each of their attempts. Last year coming up a little short placing in the top Five.
Second Place was Evan East and Michael Moore with a five fish limit weighing in at 10 pounds even
Third place was Tyler Trent and Ethan Thrift with 8 pounds 15 ounces
Fourth place was Hunter Gathright and Colton Arnold with five fish weighing 8 pounds 6 ounces
Fifth place was Nicholas Johnson, and Eli Martin with five fish weighing 8 pounds 2 ounces
The Lew's Big Bass award went to Casey Tissue and Clayton with a kicker fish weighing 4 pounds 7 ounces