2023 Junior World Championship
Heads to Oklahoma and Sooner Lake July 26-28, 2023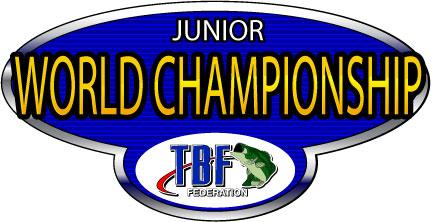 PONCA CITY, OKLA. (5/12/2023) – The Bass Federation Inc. (TBF) announced today that the 2023 TBF Junior World Championship (JWC) is set for July 26-28 on Sooner Lake south of Ponca City, Oklahoma and home of the Federation's National office.
The 2023 JWC includes a two-person team format and three days of competition, launching just south of the Oklahoma Gas and Electric power plant (OG&E) that owns and operates Sooner Lake, teams will take the field from the HWY 15 west launch ramp.
The TBF Junior program includes all angler's 8th grade and under at the time they qualified through their home state's Junior program. Only the top percentile of Junior teams from each state's sanctioned programs are qualified and invited to attend and compete for their share of well over $12,000 in scholarships and prizes. Registration for qualified teams only will open May 31 at www.Bassfederation.com and close July 5.
Historically, the Junior World Championship (JWC) is held in conjunction with the Federation's Annual State Leadership Conference for 2023, in celebrating the federations 55th year since the first federation club was formed it will be hosted with the 2023 JWC in Ponca City, Oklahoma. The Annual TBF State Leadership Conference invites 49 TBF affiliated state federations in the US and Canada to send state official(s) to attend meetings on fishing, youth and conservation items, strategic planning, educational sessions, as well as annual elections of TBF National Directors.
"We welcome the TBF Junior anglers, State Leaders and their families from across north America to our hometown of Ponca City for this week-long array of events." Stated TBF Federation National President Robert Cartlidge. "We have never held an event from the home of the Federation and thought it would be a great place to hold our annual convention celebrating 55 years and the 2023 JWC as it is very centrally located, the fish on Sooner Lake will keep the young anglers busy and it is a unique fishing location in this part of the US. There certainly will be no home lake advantage as it is doubtful any of the junior contenders or their parents/boat captains have ever fished the lake so it is anyone's to win."
Sooner Lake is kind of a local "favorite" owned and managed by the Oklahoma Gas and Electric company (OG&E) as a power plant cooling water lake, it is well managed, full of grass, weeds, rip rap, standing timber, offshore fishing and more. Access is provided by OG&E for the public's use. Spring time events can turnout multiple 8 pound plus bass on Sooner Lake and by end of July for the JWC grass beds should be topped out.  Sooner Lake can be very deceiving at first glance but it holds a lot of fish and over 40 miles of shoreline if the young anglers can figure them out. It is located in Oklahoma so the wind may play a factor as well.
Many of today's top pro anglers started in the TBF Junior program.  A few examples are; Jacob Wheeler (IN) fished the 2006 JWC; Shane Lehew (NC) won the 2007 JWC, and 2017 Forrest Wood Cup winner Justin Atkins (MS) in the 2008 JWC.  More recently, 2020 TBF Federation National Champion Living The Dream angler Lance Freeman (KY) started out by fishing his home states Junior program in Kentucky and many more.
About The Bass Federation – The Bass Federation Inc., (TBF) is a member of the Freshwater Fishing Hall of Fame and headquartered out of Ponca City, Oklahoma. TBF is owned by those we serve and dedicated to the sport of fishing. The Federation is the largest and oldest, organized grassroots fishing, youth, and conservation organization there is. TBF, our affiliated state federations, and their member clubs conduct more than 20,000 events each year and have provided a foundation for the entire bass fishing industry for 55 years. TBF founded the Student Angler Federation and the National High School Fishing program in 2007 to promote clean family fun and education through fishing. Visit bassfederation.com or highschoolfishing.org and "LIKE US" on Facebook.
###