Consistency and discipline pay off for Ohio's Andy Fryer and Nebraska's Chad Garton
Osage Beach, MO  4/3/2023
Missouri's Lake Of The Ozarks, hosted The Bass Federation's 2023 National Championship last week, March 29-31 out of Osage Beach, MO. The event continues to expand and increase payout to Federation members each year. 102 anglers from each state and Canada took to the lake Wednesday morning amid a reminder that spring is not fully arrived in the Ozarks just yet.
As is always the case some anglers will figure it out. Which ones end up on top at the grand finale are always those who adapt their skill set to the body of water the best. However, there's no doubt that each of the TBF champions at the event who were representing their home state federations pulled out all the stops in a bid for the most coveted crown in grassroots bass fishing.
Competitors qualified through the TBF's National Semi-Finals format. Comprised of 22 close to home district competitions, grouped into 7 traditional TBF divisions across North America that are designed to make it more cost effective for TBF grassroots anglers to fish premier events by minimizing travel time and expenses while increasing payouts across the board. This year's TBF Championship event boasts NO entry fee and more than $404,000 in cash, prizes and awards, including a new Ranger Z-520R, powered by a Mercury 250 HP motor, paid hotel room and boat gas stipends. Each of the 7 division champions will earn paid entry fees into the circuit of choice, loads of cash, qualified anglers earn a total of 16 advancement spots (2) into the Toyota series championship and (14) – (7 boaters 7 Co-angler) into the All-American via TBF's longstanding partnership with MLF and much, much more.
Day 1 take-off saw 29 degrees and frost covered walkways, docks and boats; It did not phase the championship anglers however as the excitement to get started was in the air.  Day 1 results saw the boaters side dominated by the eastern and northern division anglers, the only central division boater in the top ten was Hunter Baird from Kansas.  New Hampshire's John Levesque dominated the boater's field with 5 fish that weighed 23 pounds and 14 ounces, New York's Brad Brodnicki sat in 2nd and Baird in 3rd. On the co-angler side Nebraska's Chad Garton led that field with 13lbs even out of the back of the boat.
Day 1 leader John Leveque, NH and TBF's Eastern Division.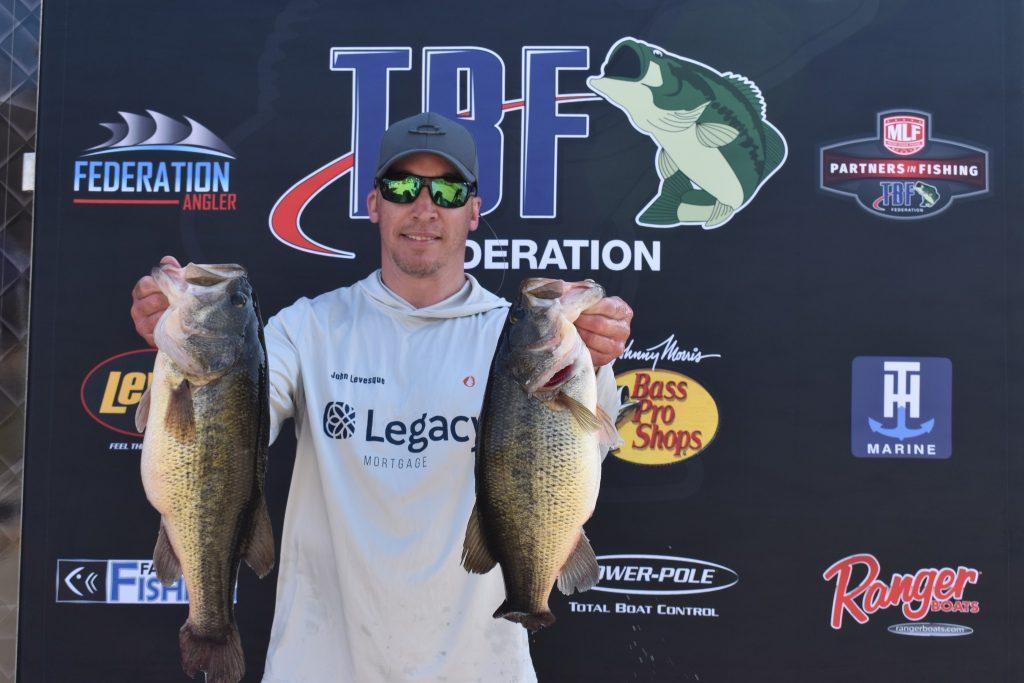 Warmer weather is coming
With warmer weather in the forecast before the week is over to include high 70's and rain. The total 3-day weight wins, so whoever wins the event will have adjusted to changing conditions and will have to earn it.
Day 2, cut day.
On day 2, the day 1 leader Leveque (NH) struggled some but held onto the overall lead with 34-05 and the day 1 co-angler leader Chad Garton built on his lead as well and finished atop the Co-Angler pile with 23-03.
After the second day the full field of 102 anglers will be cut down to the top boater and top co-angler from each of the 7 TBF divisions (Eastern, Mid-Atlantic, Northern, Southern, Central, Northwest, and Southwest.) As division champions, only they will compete on the 3rd and final day.
Division champions take the final day field. Three-day combined weigh means consistency pay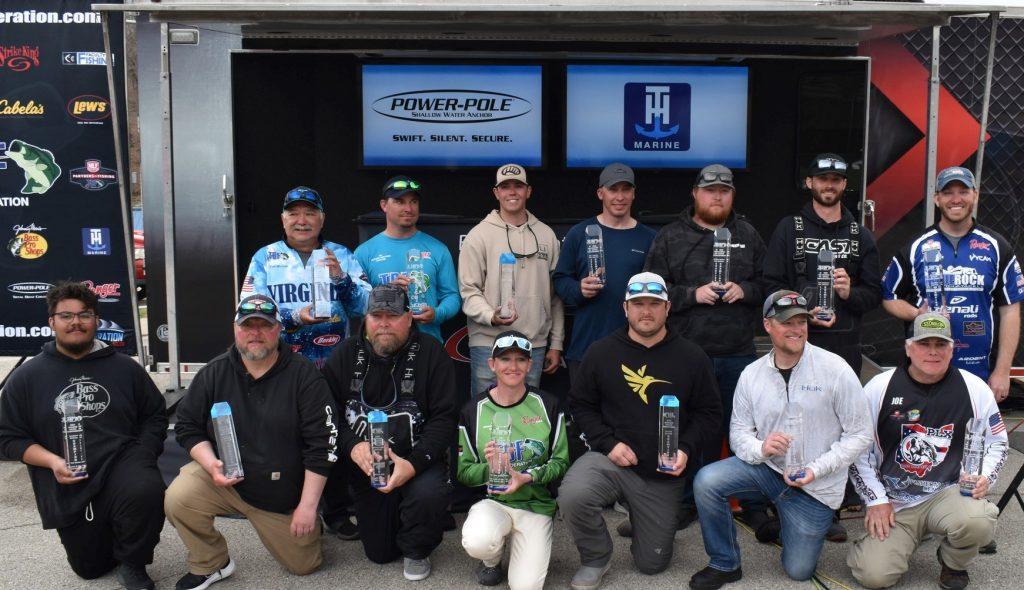 2023 TBF Division Champion's Above
Boaters back row L to R; Virginia Mid-atlantic Division David McLean, Southwest Div, Utah Rick Taylor, Central Division, Kansas angler Hunter Baird, Eastern Division, New Hampshire angler John Leveque, Northwest Div, Oregon's Tyler Nale, Southern Div, North Carolina, Chandler Todd, Ohio angler Northern Division, Andy Fryer.
Co-Anglers front row L to R ; Southern Division from Kentucky, Tavion Tester, Eastern Division, Maine, Toby Cross,  Mid-Atlantic Div Delaware's Larry Taylor, Southwest Div, Utah, Mandy Myers, Central Div, Nebraska, Chad Garton, Northwest Div, Oregon, Gary Cross, Northern Division, Ohio Joe Harmon
The division champion's all are offered advancement spots, cash and paid entries into events near them to help the Live THEIR Dream. The final day seen a shake up on the boater's side as Hunter Baird held the lead right up until the end with his 3-day total of 40-10 ounces.
Kansas angler from the central division Hunter Baird was leading the final day until….. Fryer weighed in.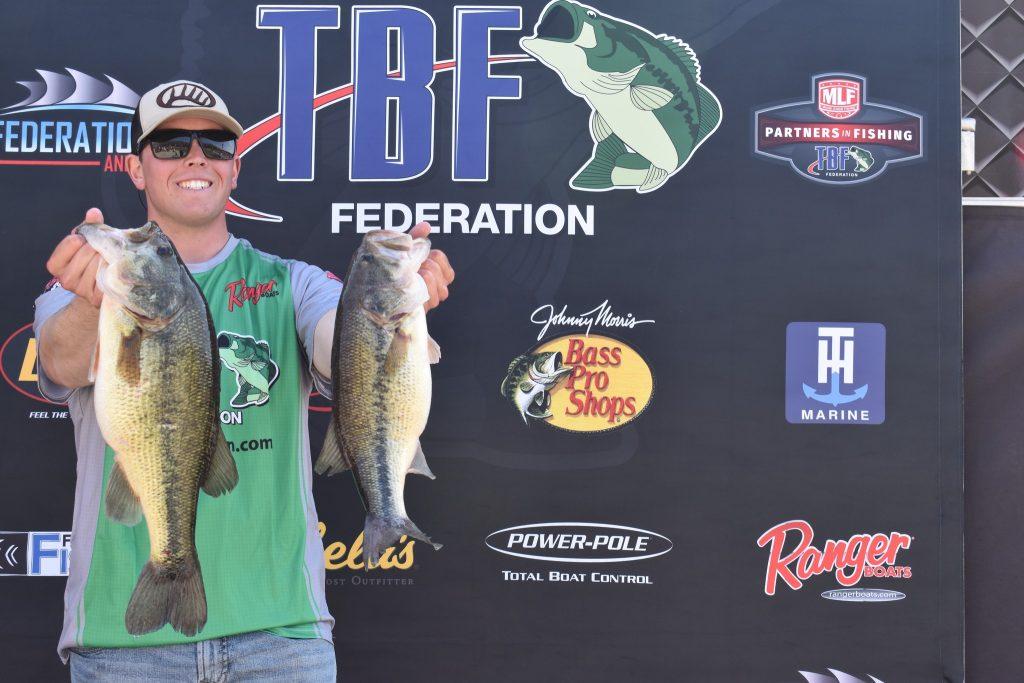 Ohio's Andy Fryer weighed in and proved to be the most consistent angler in the entire field all week, sitting in 4th after day 1 with 16-02, 13-11 on day 2 pushed him into 2nd overall and the final day Fryer brought in 19-02 to secure his spot in history with his 3-day total of 48lbs 15oz.
2023 TBF National Champion Boater Andy Fryer from Ohio and the Northern Division of TBF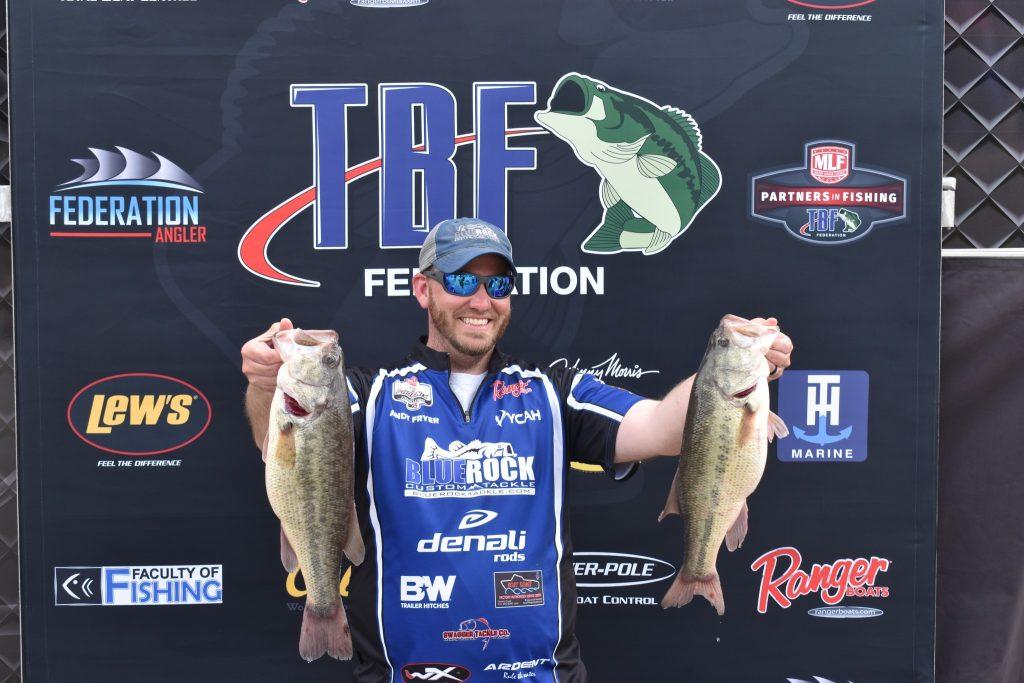 For his win he earned the coveted Federation National Champion title and the $125,000 TBF "Live YOUR dream" prize package to include a new Ranger Z520R and 250 Hp Mercury his to keep, $20,000 cash, $5,000 paid entry fees, advancement to the BFL All-American and the Toyota series Championship, travel stipends a clothing package and more.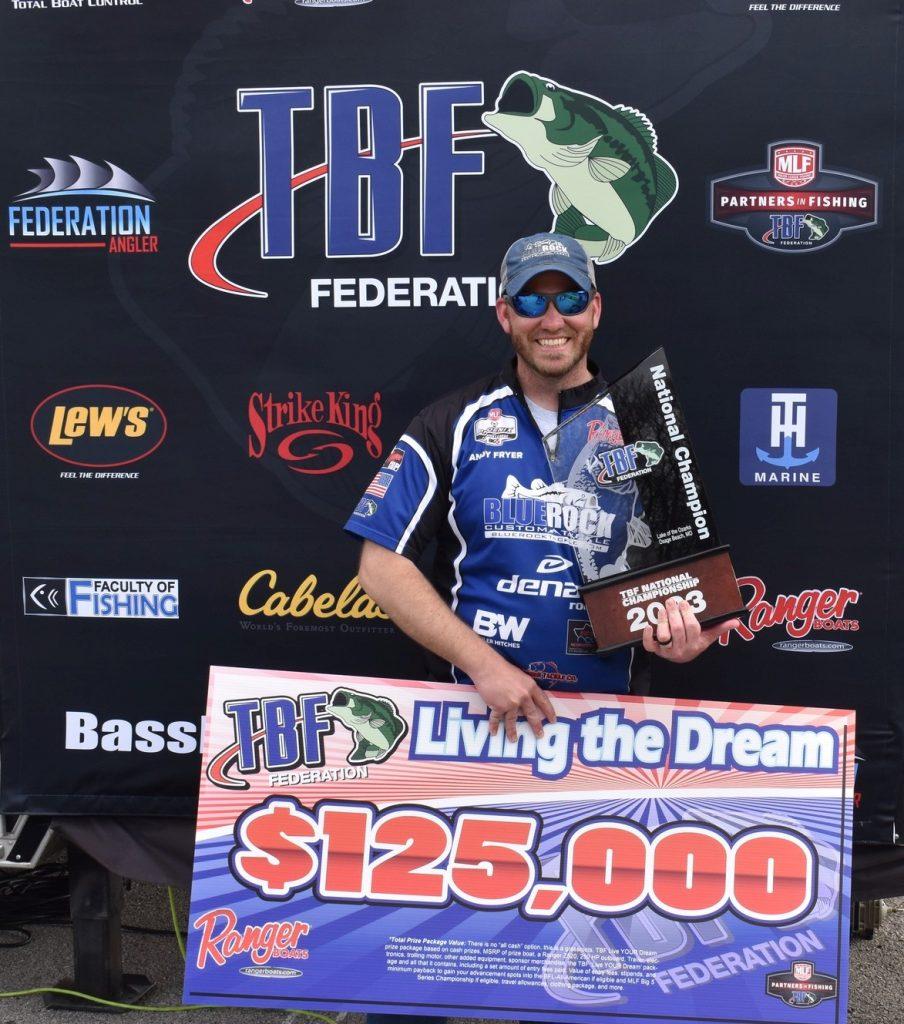 Co-Angler Champ
Consistency proved to be the winner on the Co-angler side too as Nebraska's Chad Garton, Central Division angler lead the Co-Angler side wire to wire adding another 14-03 bag out of the back on the final day pushing his 3-day total to 37-06.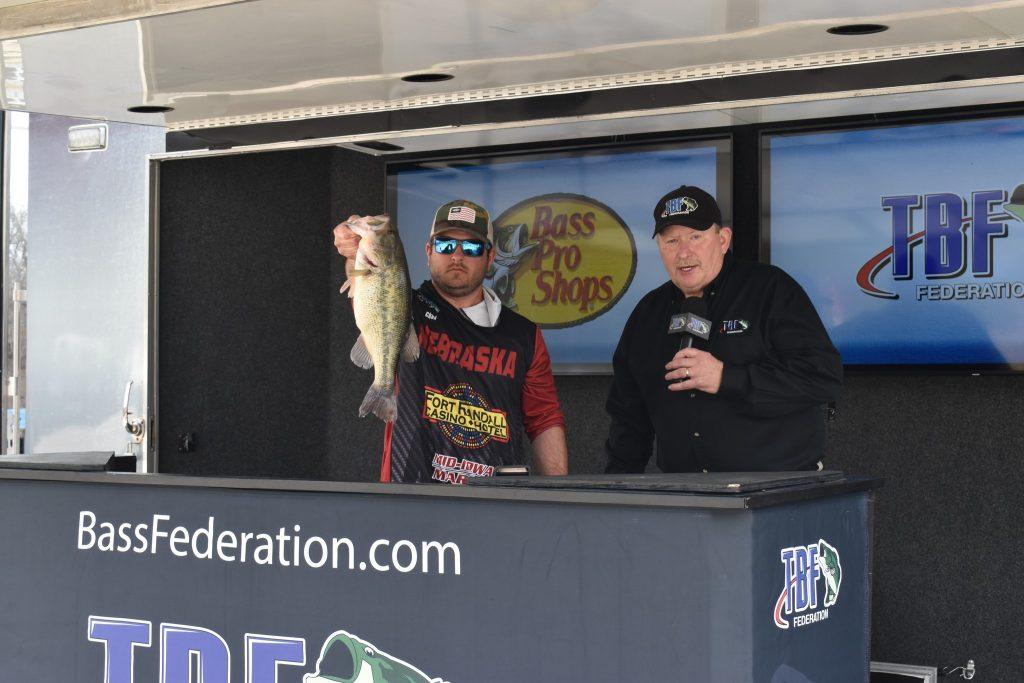 Garton took home the $35,000 co-angler prize package, including $20,000 cash, advancement opportunities, $2,500 paid entry fees, travel stipends, clothing package, a MinnKota trolling motor, Lowrance electronics, a power pole and more.
Chad Garton – 2023 Co-Angler National Champion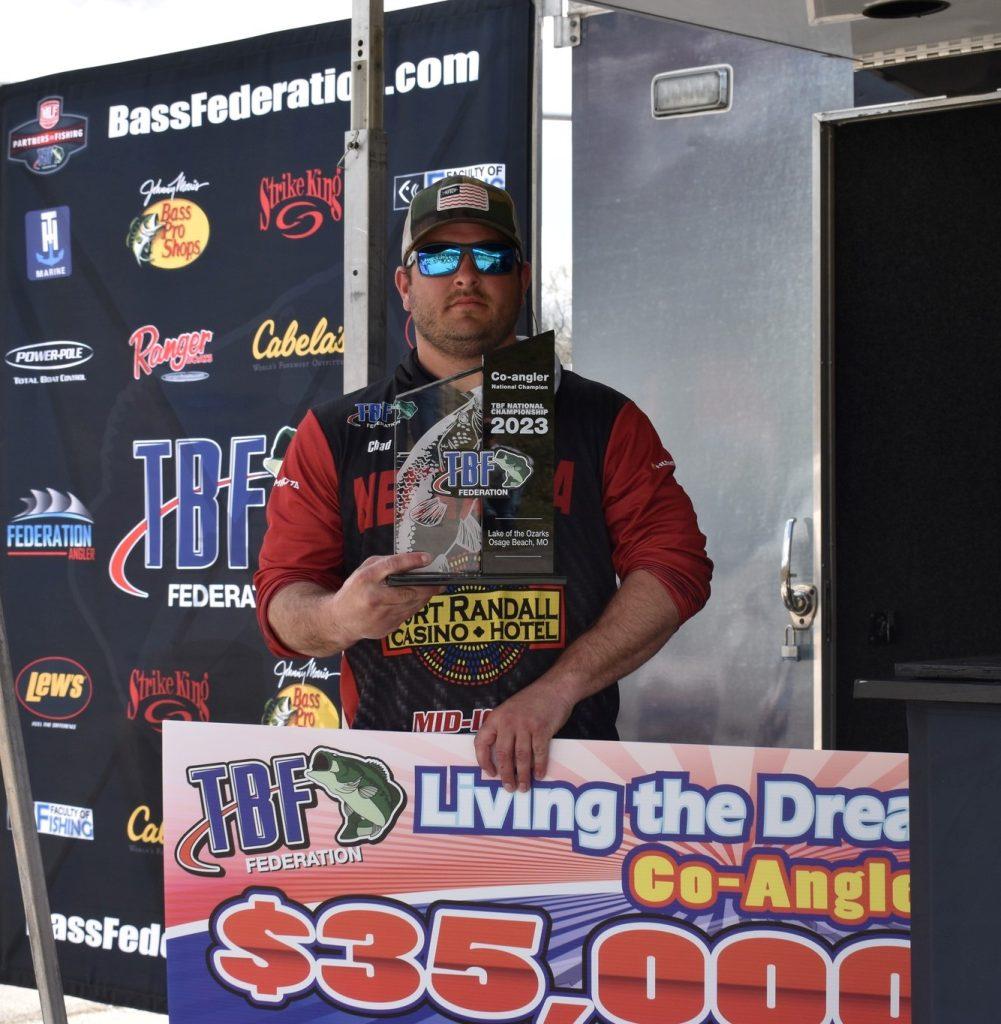 How they did it.
Many anglers reported Lake Of The Ozarks changed daily with fish being caught as shallow as 2 feet and as deep as 40 feet. While some reported jerk baits and Alabama rigs caught a few fish, most fish were listed as being caught on drop shots, jigs, spinner baits with a few crankbaits and swim baits mixed in.
The eventual TBF National Champion, Andy Fryer reported one bait accounted for the bulk of his catch while following a disciplined plan to win. 90 % of Fryer's winning weight was caught on a local Ohio made Spinner bait from Blue Rock Custom Tackle. The Spinner bait flaunted double colorado blades with a skirt color called "Kicker" tipped with a white swim bait trailer. Fryer fished a little more than the first half of each day about halfway back in coves of the Glaze River arm, slow rolling the spinnerbait while the boat was in 10-15 of water. Then moved to the back of the coves where the majority of his fish came in only the last two hours of each day and in less than 3 feet of water.
Congratulations to your 2023 TBF Federation National Champion boater and Co-angler!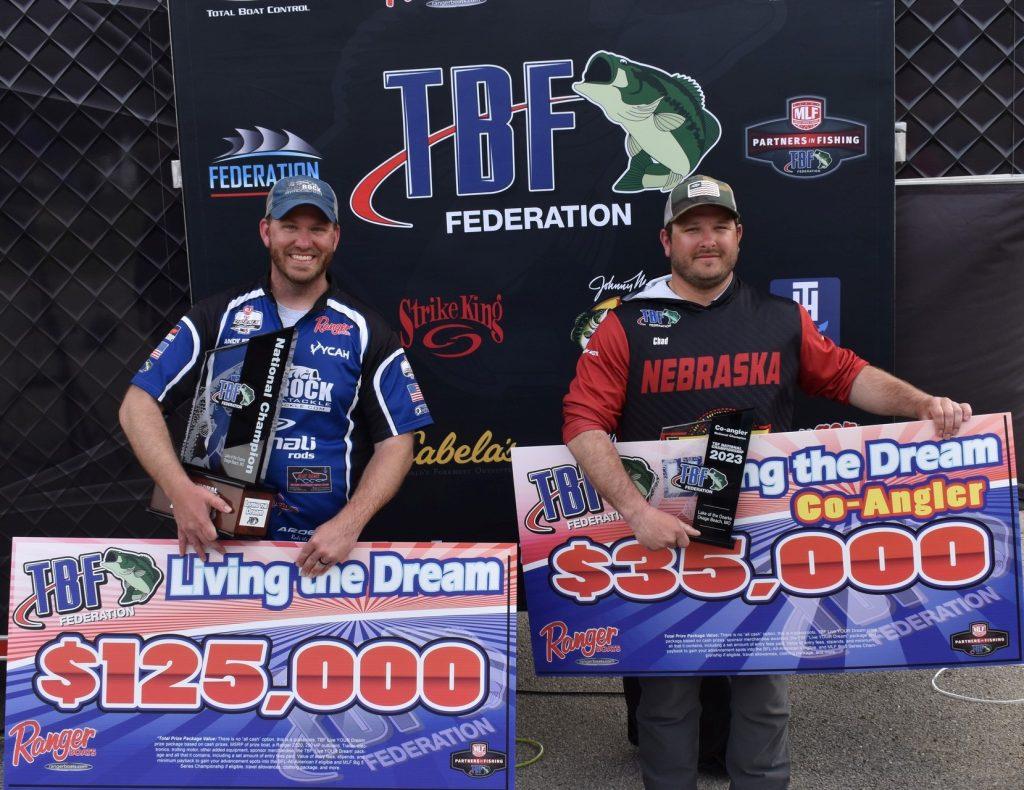 For more info on how you can qualify through your home state federation for next year's 2024 TBF National Championship visit bassfederation.com or call us at 580-765-9031
Coverage of the TBF National Championship will be broadcast nationally in high-definition on the Pursuit Channel and was streamed live daily on bassfederation.com.
About TBF The Bass Federation Inc. is the oldest and largest, organized grassroots angling organization in America and a member of the freshwater fishing hall of fame. TBF is 100 percent owned by those it serves and is dedicated to the sport of fishing. TBF affiliated state federations and their member clubs conduct more than 20,000 fishing, youth and conservation events at the local level each year, and have provided the foundation for the entire bass fishing industry for 50 years. The Bass Federation is proud "Partners in Fishing" with industry-leading companies including MLF, Ranger Boats, Bass Pro Shops, Cabela's, T-H Marine, Power Pole, Lew's, Strike King and FacultyOfFishing.com. For more information about The Bass Federation, visit bassfederation.com, or call 580-765-9031. Look for TBF on facebook at Facebook.com/thebassfederation and on twitter at Twitter.com/bassfederation
Full Results are on the National Championship Home page Here 
Daily Photo Albums are HERE