Franklin D. Roosevelt Lake (also called Lake Roosevelt) is the reservoir created in 1941 by the impoundment of the Columbia River by the Grand Coulee Dam in Washington state. It is named for Franklin D. Roosevelt, who was president during the construction of the dam. Covering 125 square miles (80,000 acres), it stretches about 150 miles (240 km) from the Canada–US border to Grand Coulee Dam, with over 600 miles (970 km) of shoreline; by surface area it is the largest lake and reservoir in Washington. It is the home of the Lake Roosevelt National Recreation Area.
The October 03-04th,2020 National Semi finals was held on Lake Roosevelt .This fishery is known statewide for its fantastic smallmouth fishing in which it contains a very healthy population of smallmouth bass mostly . This year we brought 39 Teams (Boaters) to the lake for our event.
The weather conditions were very comfortable both Saturday & Sunday with air temps getting up to 80 degrees and sunny both days with hardly any wind . Even though the conditions were nice for the anglers it definitely made the bite a little more difficult due to the lack of wind current for some .
After day 1 of fishing we had 7 boaters whom brought back bags of limits over 14lbs. The top bag on day 1 was from Dave Krom who weighed 18.47lbs, David Parnicky was the next closest boater in weight with his 5 fish limit that weighed 17.30, followed by John Branch with 16.25.
The Co-anglers also panned out nicely after day 1 of fishing with the top co-angler Glenn Hancuff bringing back 15.12lbs. Justin Blackmore weighed 14.45 and the next closest weight was 13.04lbs . The close results set the anglers up for a close shoot out for day 2 of competition.
Day 2 started again shortly after the national anthem echoed through the valley. All angler were updated prior to start of their day that the state pride results showed that the Boaters were separated by less than 9lbs with Washington in the lead and the Co-anglers were separated by less than 6lbs so EVERY KEEPER FISH COUNTS TODAY ANGLERS!
After the last fish touched the scales on Sunday and the final results were tallied up there was a lot of movement on the leader board. John Branch who was sitting in 3rd place on day 1 managed to stick a bigger bag on day 2 that weighed 17.41lbs and therefore claimed the Top finishing boater from Washington State with his overall weight of 33.66lbs. On the Co-angler side Michel Free who stayed consistent both days with weights of 11.98 from Day1 matched with his Day2 weight of 12.33lbs for a total weight of 24.31lbs was good enough to secure his position of Top finishing Co-angler overall and advancement to Nationals. Congrats to the top fishing boater from Oregon Kory Ray who finished with a total weight of 28.02 and Glen Hancuff from Oregon who put 21.28lbs of lake Roosevelt smallmouth on the scales and also punched his ticket to Nationals .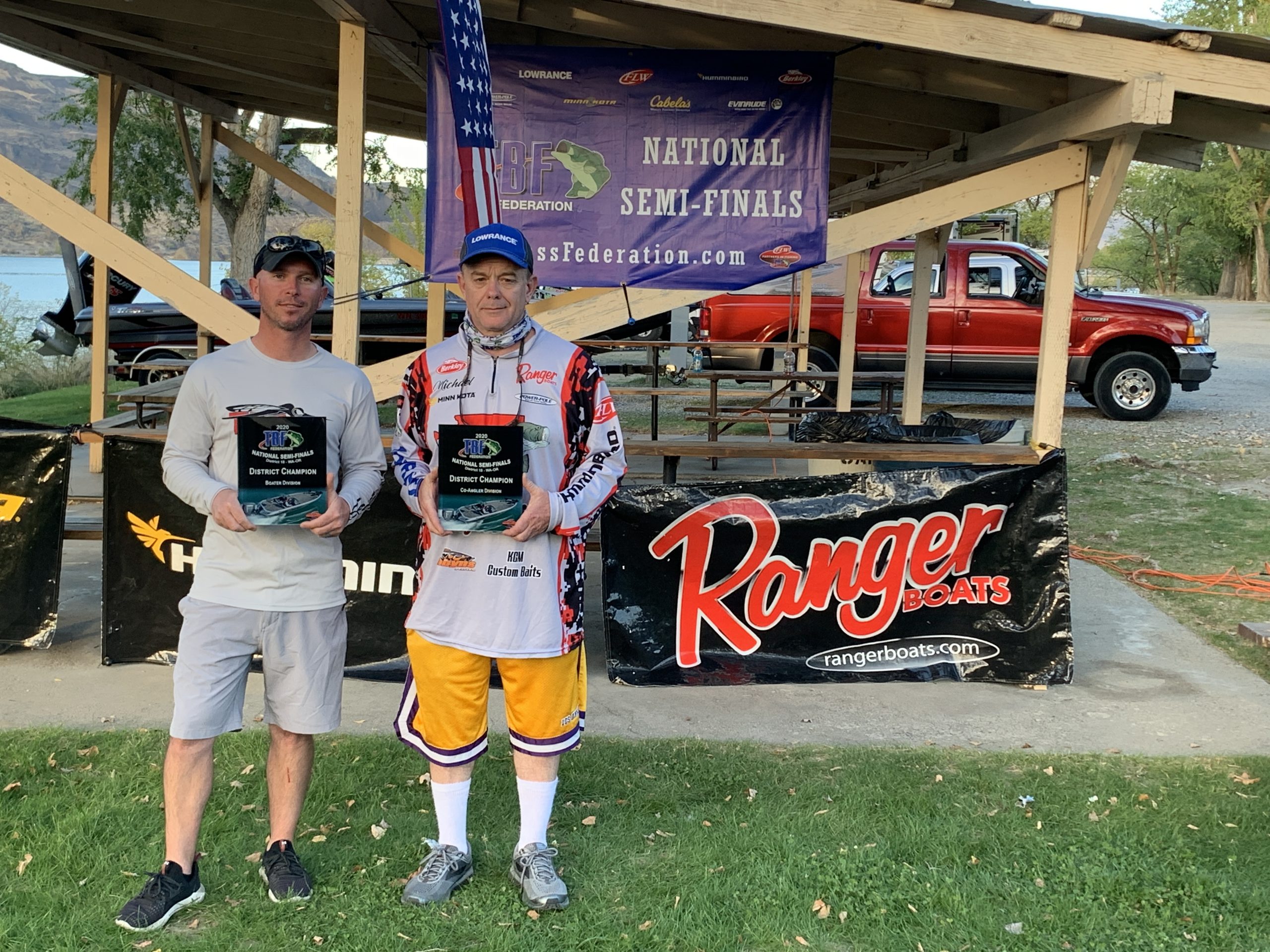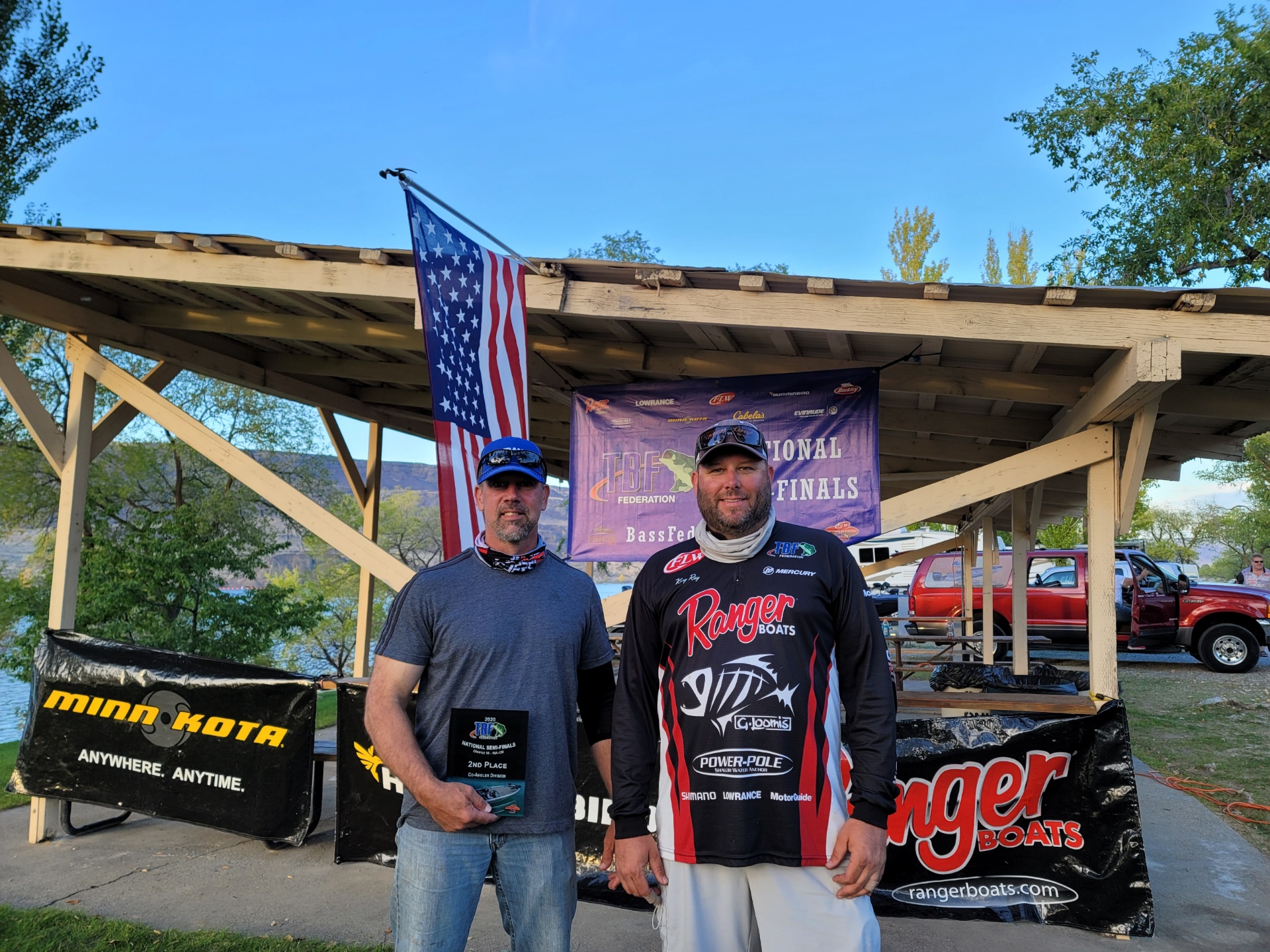 Overall, we had a great event with lots of smiles on many anglers' faces throughout both days. The Washington state bass federation was the "only" group who was approved for a permit in our state to use the park due to CDC Guidelines this year. At any point, we were not allowed to have more than 10 anglers in front of the scales weighing fish which made the process a tad longer than normal however this humbled and grateful group of anglers did a fantastic job in following the guidelines with the park ranger standing in plain  sight both days. The rangers were pleased with how we conducted ourselves and we did not receive a complaint .Great job angler with proving that our OPEN – AIR Sport of competitive bass fishing is still possible when we all do our part.
Dez Ruffin (washington state bass federation president )