The 2020 TBF District 9 National Semi Final was held September 26 and 27 at Hiawatha Beach Resort on Leech Lake in Walker, MN.  At 111,527 acres, Leech is the third largest in-land lake in the Land of 10,000.  Mainly sought out for its walleye, perch and muskie fishing, the bass fishing is often overlooked on Leech.  But with expansive wild rice beds and other emerging aquatic vegetation found in the large shallow bays like Boy, Steamboat, Sucker and Headquarters, Leech boasts a generous population of Largemouth Bass.  Here, 20+ pound five-fish limits are not uncommon.
If you have ever fished Lake Okeechobee, you might call Leech its northern cousin.  While Leech does offer an emerging population of quality Smallmouth bass, they are considered a secondary species here.  In Minnesota, Smallmouth are limited to catch-and-release only beginning in early September, so anglers were limited to bringing only Largemouth to the scales.
The top anglers from Minnesota and Wisconsin met here with berths to advance to the 2021 TBF National Championship at stake.  Anglers faced ever changing weather during both days of competition including mostly rain, some sun, clouds and constant changing winds from calm to 20 mph+.  Locals claimed the lake "fished tough" as anglers seemingly found bass still in a transitional stage migrating from summer holes into their fall/wintering areas.
Ron Mehr of Minnesota claimed the boater champion title with an impressive two-day total of 34.33 pounds.  Mehr caught his winning bag pitching All-Terrain Tackle jigs and Senkos to edges of wild rice beds in the lake's eastern bays.  Josh Leesberg of Minnesota finished second with 33.59 pounds.  Brad Knight, who finished fifth overall, will join Mehr and advance to the TBF National Championship as Wisconsin's top boater.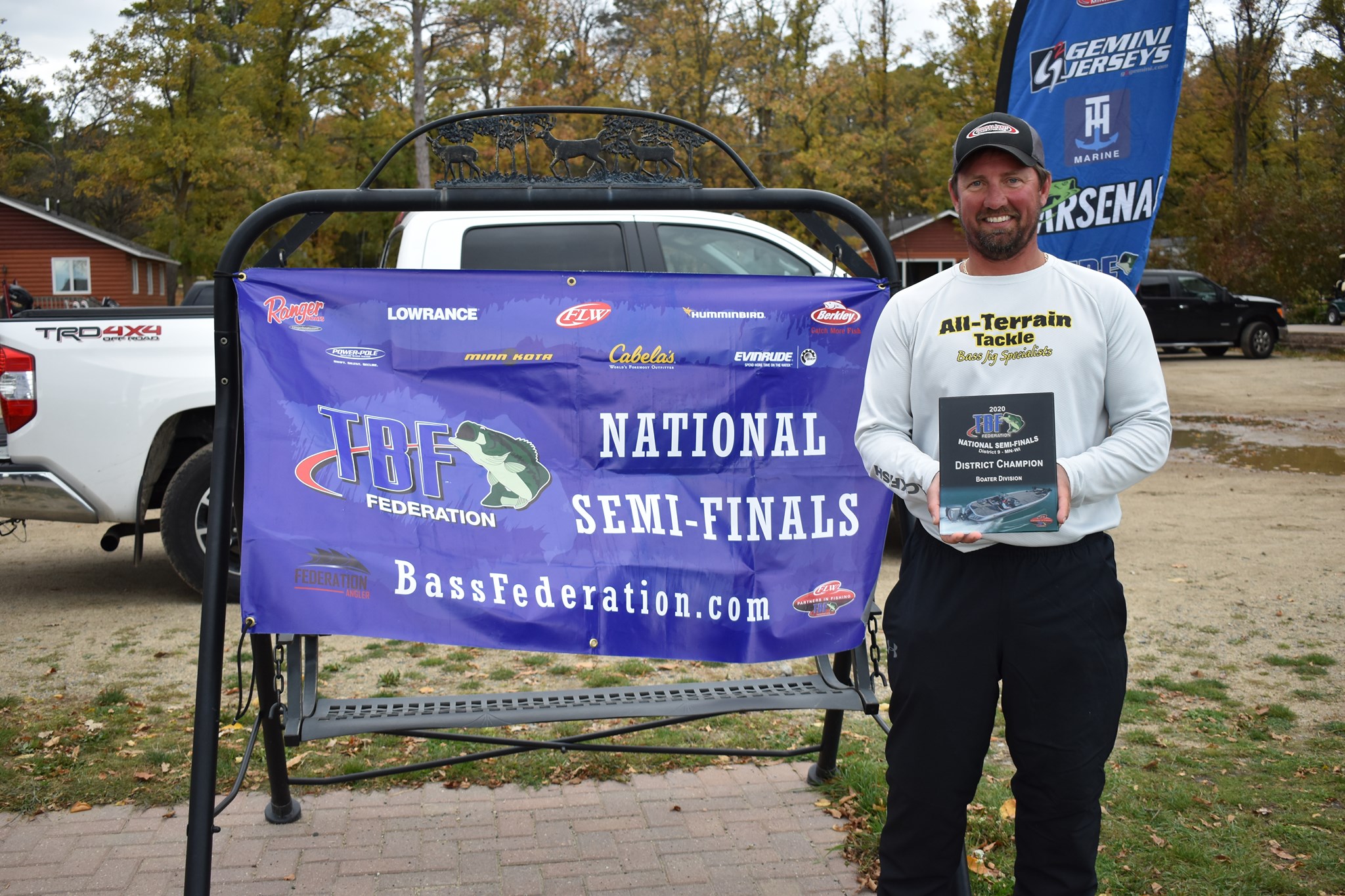 Tyler Bahr of Minnesota won the co-angler champion title sacking 28.48 pounds over both days.  Bahr caught most of his fish on a Juice Baits 5" Stick around lily pads, rice, and other shallow cover. Max Stawinoga of Wisconsin took second place overall with 27 pounds 9 ounces and will join Bahr advancing to the TBF National Championship.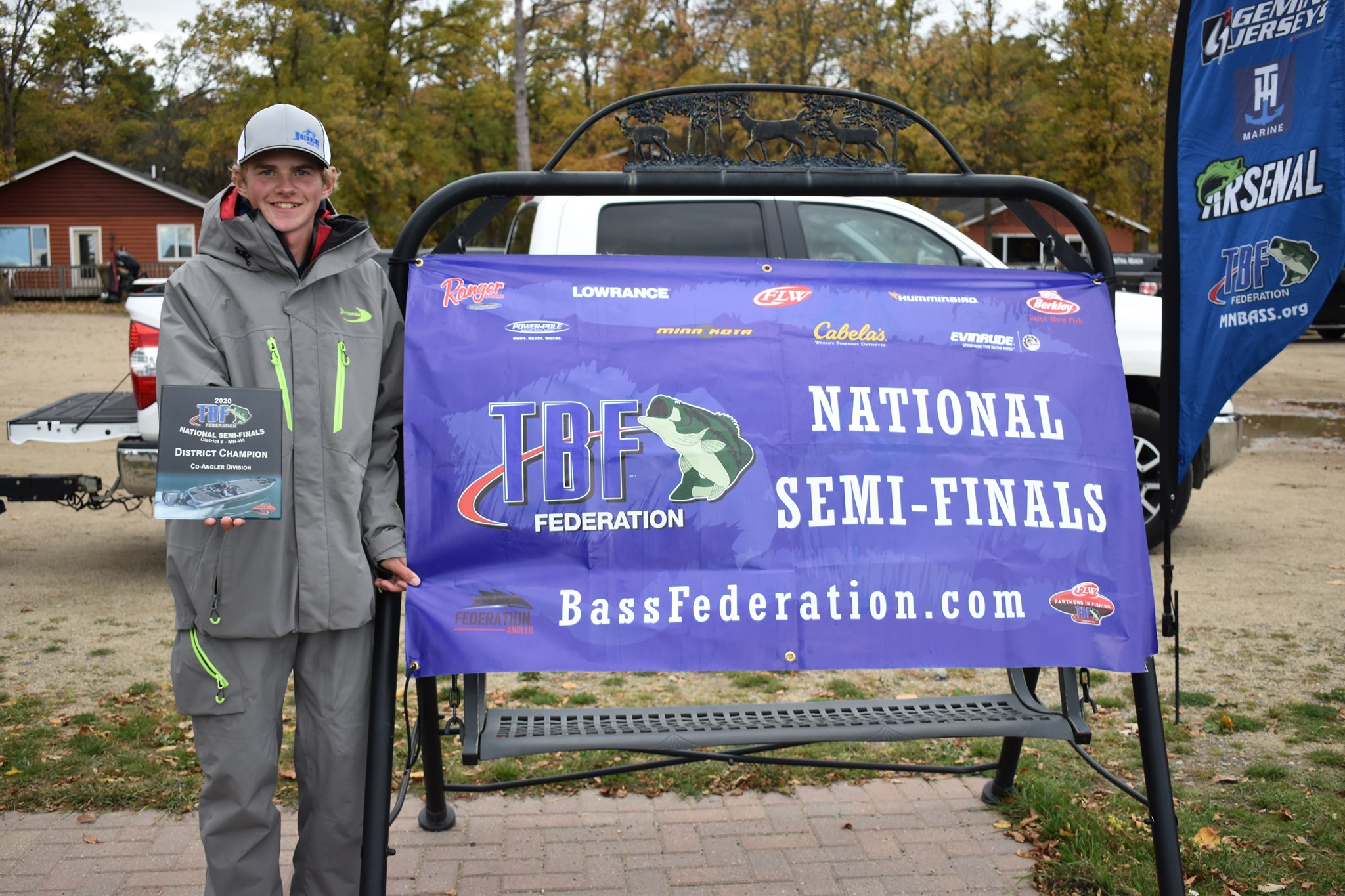 The Minnesota team of Ron Mehr, Marty Wagner, Jason Howland, Rich Lindgren, Shark Kishida, Greg Poetz, Jeremy Bjorgaard and Dave berg claim the State Pride award for Minnesota with a nearly 65 pound margin of victory at 165.51 total pounds.
Brian Tonn, Minnesota caught the largest bass of the derby weighing 5.61 pounds. Eric Ritter, Minnesota claimed $500 Ranger Cup prize as the highest finishing Ranger Cup qualified angler.
CLICK HERE to see all photos from this event. For full results CLICK HERE.