GRAND LAKE O' THE CHEROKEES HOSTS 2020 TBF FEDERATION NATIONAL CHAMPIONSHIP

Ponca City, Okla., (March 11, 2020) – The Bass Federation's elite head to Grand Lake in Grove, Okla., March 9-14 to vie for the 2020 Federation National Champion titles, lucrative "Living YOUR Dream" boater and co-angler champions prize packages, Ranger Cup contingencies and cash prizes.
TBF is an independent powerhouse 100% owned by its members and every year it continues to provide more for this industry and its members.  For the 5th straight year, the no-entry fee national contest will increase its value, the total purse for this event has nearly doubled since 2015 fueled by the success of the TBF National Semi-Final program, the 2020 Federation National Championship will boast a record-breaking pot of cash prizes and awards that will exceed $380,000.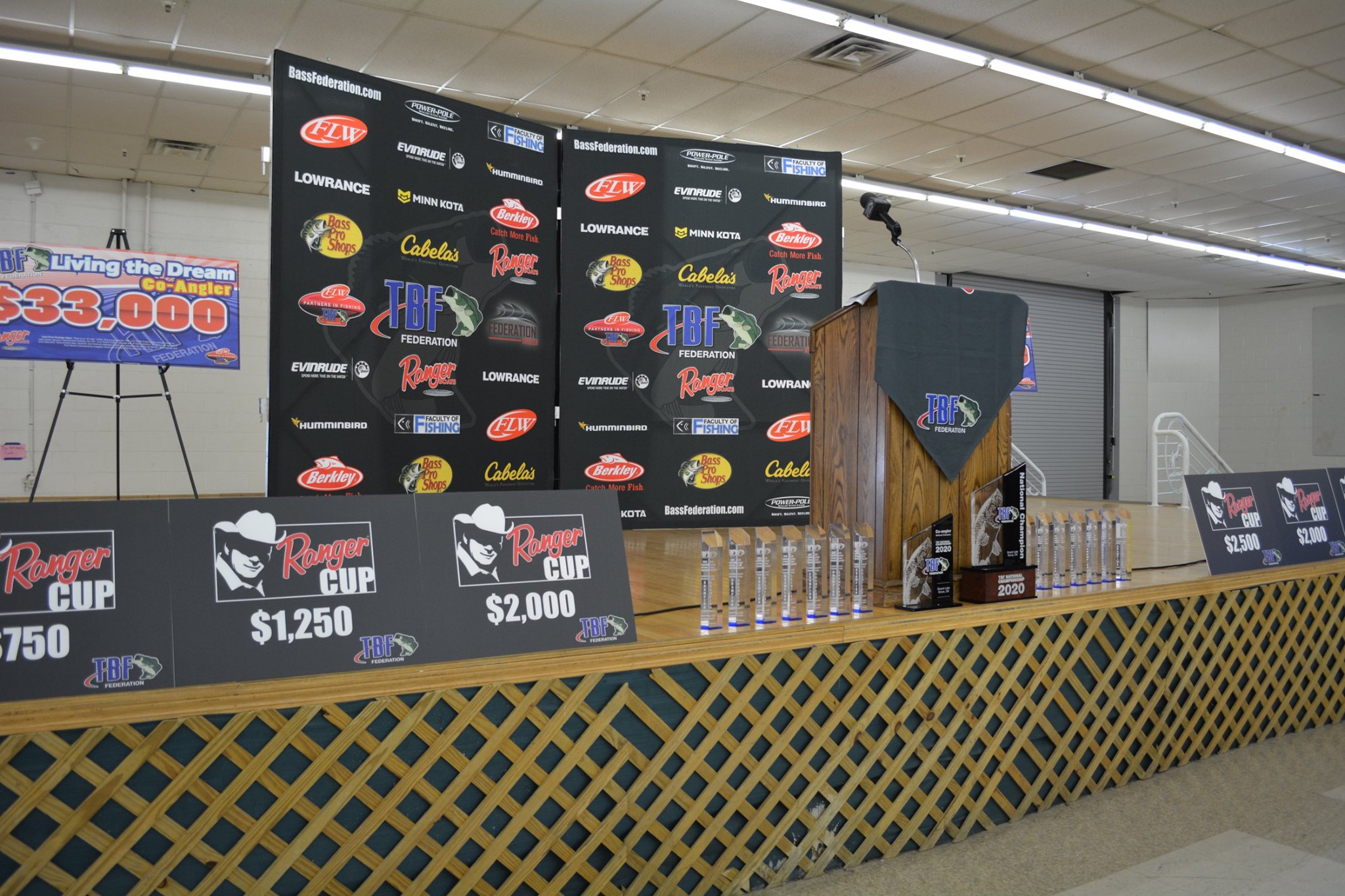 For the first time in event history, Ranger Cup contingencies will be awarded to the top five Ranger Cup qualified TBF boaters and the top 5 TBF co-anglers.  The top five boaters will awarded $2,500, $2,000, $1,500, $1,000 & $500 and the top co-anglers will receive $2,000, $1,250, $750, $500 and $250.
The Bass Federation will host 108 TBF National Semi-Final Champions from across the nation and Canada.  National Semi-Finalist qualified at 22 close-to-home district contests that span the traditional seven TBF geographical divisions, the framework paves the way for TBF grassroots anglers to fish premier events with some of the industries largest cash and prize packages and more advancement opportunities than anyone grassroots organization in the industry.
The National Champion boater will receive the 2020 "Living YOUR Dream" prize package valued at over $125,000 to include a new 2020Ranger Z520L with Evinrude 250 G2, fully loaded with Power Poles, electronics trolling motor and a custom Ranger trail trailer, a $20,000 cash award and featuring a pre-set amount of entry fee stipends PAID to assist the winner in fishing his/her choice of affiliated circuits anywhere in the US or Canada with travel stipends, a clothing package and more.   The champion boater will receive automatic berth into the 2020 BFL All-American with travel and housing stipend and a guaranteed payout with $100,000 top prize at the event.  Also, an automatic berth in the 2020 FLW Series Championship with $200,000 top prize and a reserved slot at the 2021 FLW Pro Circuit.
The National Champion co-angler will receive a custom "Living YOUR Dream" package valued at over $33,000 with $20,000 cash prize plus paid entry stipends into any affiliated series of choice anywhere in the US or Canada with travel stipends, a clothing package and more. The champion co-angler will also receive automatic berths into the 2020 BFL All-American as a co-angler with travel and housing stipends and a guaranteed payout with $50,000 top prize and the 2020 FLW Series Championship as a co-angler with a $30,000 top prize.
Also, this event will introduce "Living YOUR Dream" prize packages for all of the TBF Division Champion boaters and co-anglers, 14 anglers in total with cash payouts, entry fee stipends and advancement spots into the BFL All-American.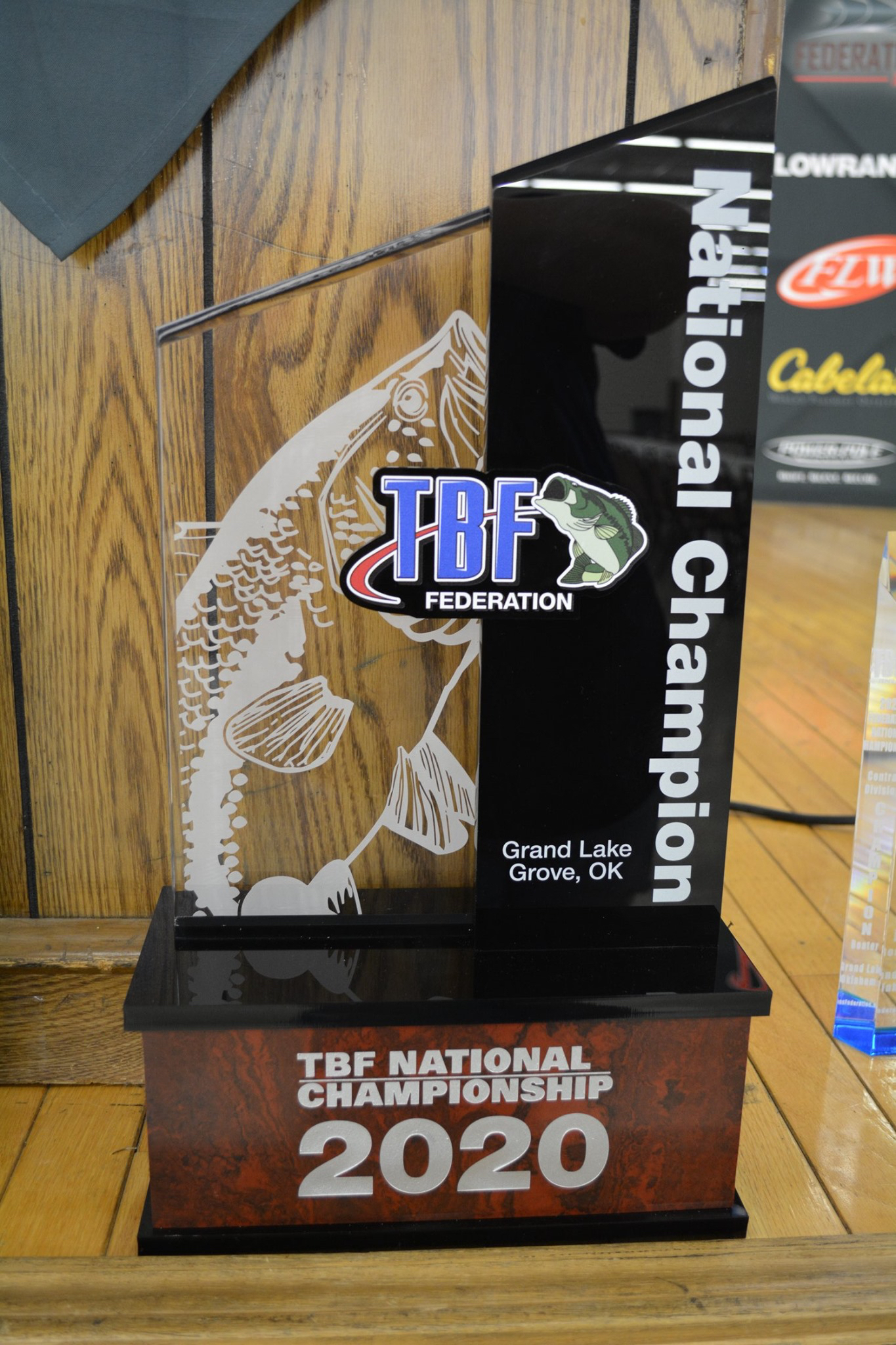 The field is comprised of the best of the best TBF anglers.  Georgia's High School State Champion, Marshall Harrelson,  is the first TBF High School angler to qualify for nationals via an earned High School State Champion slot in the National Semi-Final.  The 2014 FNC National Champion boater, James Biggs, also returns representing Texas.  The Idaho Bass Federation qualified a family of Torrek's from District 19's National Semi-Final.  Loren and Shane Torok advance as boaters, Alex Torok as a co-angler.  Shane Torok won the co-angler side and bested Idaho's top boater giving him the chance to qualify and Idaho the opportunity to send two boaters and co-anglers. There are lots of stories to tell in this event so check the daily feeds.
All 54 boaters and co-anglers will fight for their shares of the record payout as official competition days begin Thursday, March 12 on Grand Lake.  Hotel rooms for the official event days are provided for all anglers as well lunches, ice and drinks for their boat daily.  All 54 boaters also received a boat gas stipend at registration to cover their boat gas for the event.
Coverage of the TBF National Championship will be broadcast in high-definition on Federation Angler TV on the Pursuit Channel and weigh-ins will be streamed live at 3pm CT from Grand Lake O' the Cherokees on bassfederation.com.
About TBF
The Bass Federation Inc. is the oldest and largest, organized grassroots angling organization in America and a member of the fresh water fishing hall of fame. TBF is 100 percent owned by those it serves and is dedicated to the sport of fishing. TBF affiliated state federations and their member clubs conduct more than 20,000 fishing, youth and conservation events at the local level each year, and have provided the foundation for the entire bass fishing industry for 50 years. The Bass Federation is proud "Partners in Fishing" with FLW, which helps support this annual event along with other industry-leading TBF sponsors including Ranger Boats, Evinrude, Lowrance, Bass Pro Shops, Cabela's, Humminbird, Minn Kota, Berkley,T-H Marine, and Power Pole. For more information about The Bass Federation, visit bassfederation.com, or call 580-765-9031. Look for TBF on facebook at Facebook.com/thebassfederation and on twitter at Twitter.com/bassfederation.
###