Best TBF grassroots angler in North America Face Tough Day on Day One of the 2020 Federation National Championship 

Grove, Okla., March 12, 2020 – The top TBF anglers from each state and Canada launched from Grove, Okla., on Grand Lake O' the Cherokees at sunrise today in hopes of putting together a solid first day of fishing.  Grand Lake showed out and not in a good way.  Most anglers reported successful practice days but with a storm blowing through on Wednesday the bite was off across the board. 
The field is wide open going into day two where it's literally anyone's bag of fish on the line.  Fourteen Division Champions will advance tomorrow as the 2020 Federation National Championship continues from Grove, Okla. 
Leading the boater side is, David Schneider Jr, representing the Indiana Bass Federation and the Northern Division.  Schneider had a five fish limit of bass weighing 15 pounds.  "It was a fun day but it wasn't easy out there," Schneider told the crowd at the weigh-in.  "I got lucky and caught those fish quick this morning.  I'm not gonna lie – it's just a matter of luck and opportunity."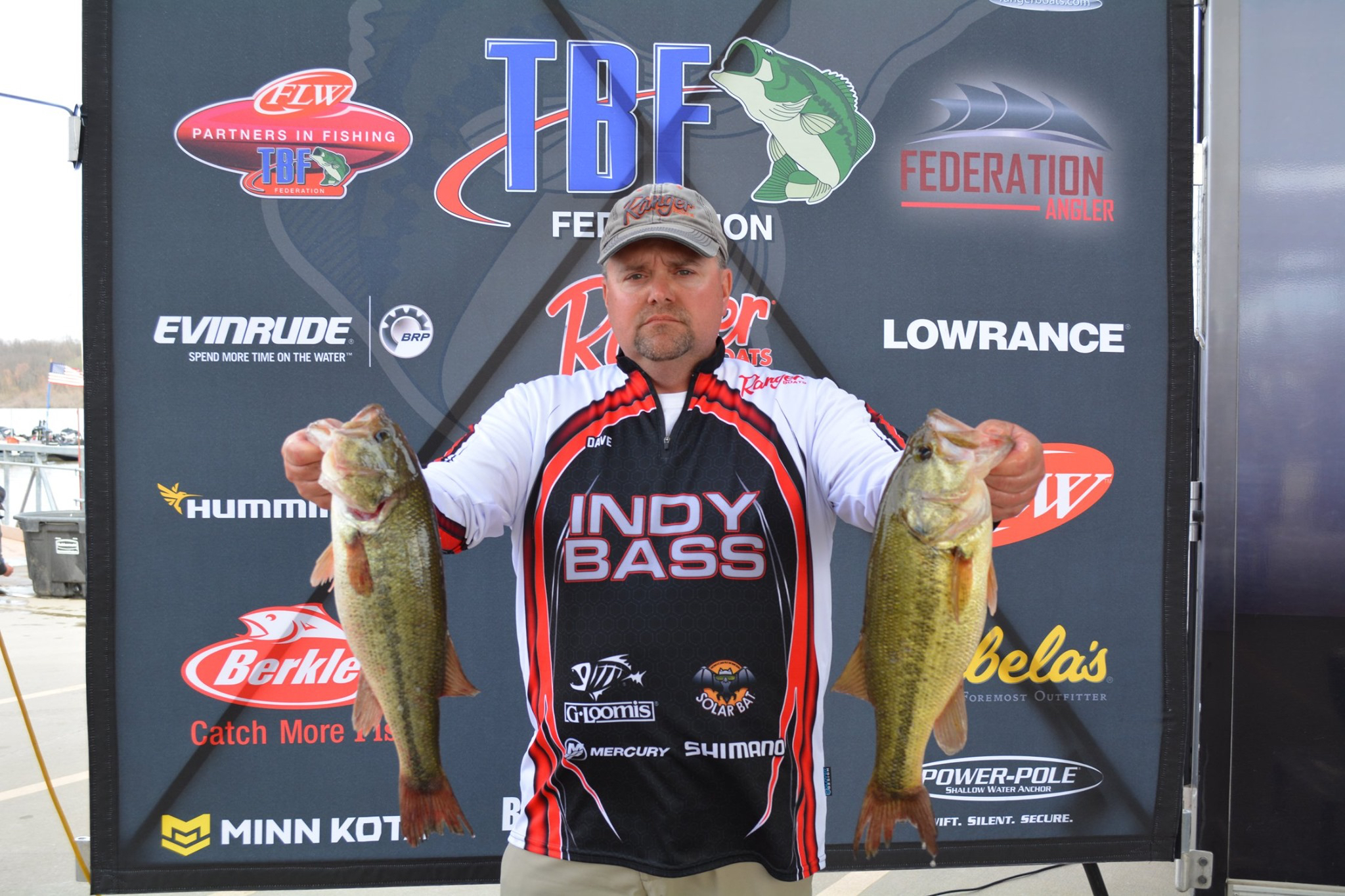 Schneider has a solid mindset and is confident he can put it all together again tomorrow.  "I had a limit by 9am and left fish biting.  I found new areas and caught a total of 14 keepers today." 
In preparation for the event, Schneider traveled to Grand between Christmas and New Year's to pre-fish.  "The lake has risen since then quite a bit and water temperatures are a lot warmer than I anticipated.  The lake and the conditions have changed every day since we've been here but it hasn't changed much out there for me." 
The Indiana Bass Federation is one of the most competitive federations in the nation to advance from its also one of the largest.  Schneider has fished the Federation since 1996 and this is his first appearance at the national event. 
"I just want to thank my Dad, who always tournament fishes with me, the Indiana Bass Federation and the TBF for allowing me to do what I do.  We can not do what we do without our family and support back home."
Derick Pendleton, put together a 20 pound 5 ounce bag from the back of the boat to lead it on the co-angler side. Pendleton is also representing the Indiana Bass Federation and the Northern Division.   He not only brought in the biggest bag of the day and landed his personal best limit but he's also celebrating his Birthday.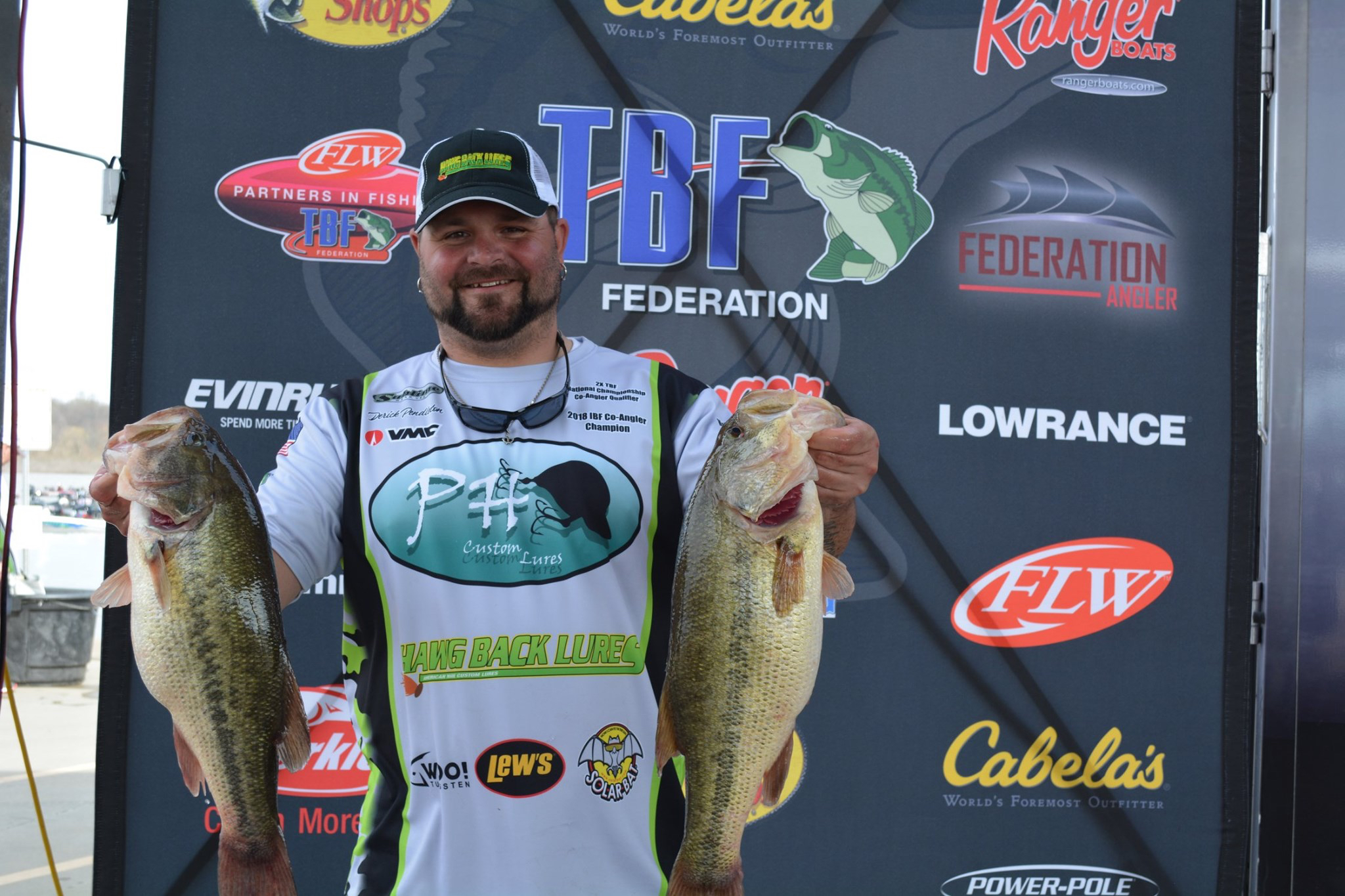 "You couldn't ask for a better Birthday,"  Pendleton said.  "It's all coming together, just lucky I guess. I'd rather be lucky than good."
Schneider and Pendleton practiced together and they've both found water they like to fish.  "In practice we wacked them and the same thing we adapted to is still going. Hopefully, the weather stays about the same and the wind cooperates by staying a little windy."
Oklahoma is known for its wind so, luck aside, he's got a good chance of getting his wish.  "I'm very happy with Oklahoma and Grand's a great fishery.  I'd come back here in a heartbeat."
This is Pendleton's second go at the national championship.  Tomorrow, he's looking to crush the second day stigma that's toyed with him over the years.  "Putting two days together has always been a hard task for me.  I'm just going to go in like it's the first day of the tournament, put my head down and grind it out."
Pendleton fished the championship on Table Rock Lake the second year Allen Boyd won the event.  Boyd and him are friends and continue to fish together back in Indiana.  "I just want to thank my sponsors, my kids and family back home for supporting me, Allen for all his help, my Federation and the HogHunters club.  I fish with a lot of good guys. I made it here and that is more than I could even ask for and on my Birthday at that."   
TBF's elite have a score to settle with Grand as day two day of the 2020 Federation National Championship returns tomorrow.  The top anglers will emerge from each Division to be crowned and they'll advance to the final day of the national championship.
Live coverage begins at 3pm CT from Grand Lake O' the Cherokees in Grove, Okla., on www.bassfederation.com and watch for event updates, live stream and pictures on TBF's Facebook page.
Division Leaders after Day one are as follows:
Central
Blake Wilson – AR, 5/5, 10-08
Justin Harris – KS, 3/3, 12-03
Eastern
Keith Cleary – CT, 5/5, 13-09
David Dumas – NY, 3/3, 8-06
Mid-Atlantic
Derick Olson – NJ, 4/4, 11-04
Dave Wilt – PA, 5/5, 13-13
Northern
David Schneider Jr. – IN, 5/5, 15-00
Derick Pendleton – IN, 5/5, 20-05
Northwest
Loren Torok – ID, 3/3, 6-02
Mel Marchese – WA, 4/4, 10-02
Southern
Lance Freeman – KY, 5/5, 14-14
Marshall Harrelson – GA, 2/2, 4-13
Southwest
Sam Heckman – CO, 4/4, 6-14
Vanessa Berger – NM, 1/1, 3-01