Tough conditions and big waves gave up some big results in the District 2 NSF on Lake Murray.
Day one was a cloudy windy day "NE winds10-20mph" and made it tough to cross the lake, but our district anglers still came out with a very nice catch as a group. Day 2 of the NSF was more forgiving weather with clearing skies and slowing winds. This allowed everyone to move about and the weight showed. The scales were lit up with nice largemouth as Lake Murray started to show how healthy it's environment is. In all this event went without any issues and was enjoyed by all.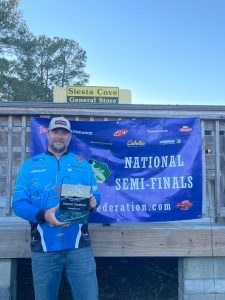 Advancing to the Federation National Championship from South Carolina will be boaters Michael Murphy, Cecil Wolfe and co-anglers Marc Proctor and Royce Combs. North Carolina will be sending boater Grey Pardue and co-angler Robert Barrett.
For full results and more photos CLICK HERE