Future Fisherman Foundation Hosts 10th Annual On-line Auction
Hall of Fame Angler and Classic champion David Fritts highlights this year's list of fishing trips
Ponca City, Okla., (11/18/19)
The Future Fisherman Foundation (501C3 Foundation) will host its 10th annual on-line eBay auction starting December 1st and running through the 7th.
This year's event highlights Lew's Pro David Fritts, who is a past Bassmaster Classic champion and was recently inducted into the Bass Fishing Hall of Fame. David is known as the "Crankbait King" and spending the day in the boat with him will not only be educational, it will be just plain entertaining as he has a great sense of humor.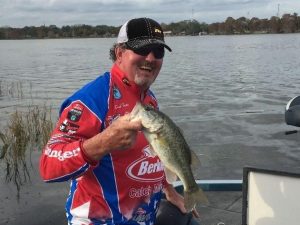 Shoppers also have an opportunity to bid on a variety of guided fishing trips, as well as a great selection of tackle packages and merchandise.
Interested in a new fishing reel? There are great selections from Fin-Nor, Lew's and Eagle Claw. Need a shallow water anchoring device? The folks at Power Pole have sent us a very nice Micro Pole that is perfect for small boats and kayaks. How about a new locator? We have units from both Lowrance and Humminbird to fill your shopping list! need a top quality Fishing Rod, we have them from TBF Federation Angler Custom rods.
Proceeds from the annual event support F3 programs like Hooked on Fishing, Not on Drugs, SuperFish and the Tackle for Educators programs.
"We have once again put together a terrific assortment of fishing trips and merchandise items for this year's auction" said F3 Executive Director Mark Gintert. "Cyber Monday will fall right in line with this year's event, so if you are looking for a Christmas gift for that outdoorsperson in your life, you need to look no farther than futurefisherman.org where all the items will be listed and ready for bidding."
Once again, A huge THANK YOU goes out to all of our donors this year; we couldn't do it without them!
The auction goes live at 8am EST on Sunday December 1st. It will run for seven days and bidding closes December 7th, at 8am EST. (Check Auction Listing for potential variations in time and date)
Interested bidders should go to www.futurefisherman.org and click on the auction tab and then click on the eBay link to view the trips and merchandise and place your winning bids!
Help us "Ensure the Future of Fishing" by supporting this terrific event!
About the Future Fisherman Foundation
Established in 1986, the Future Fisherman Foundation (F3) unites the sportfishing industry and a nationwide network of state outdoor educators, national conservation groups, youth organizations and other educators dedicated to introducing America's youth to angling, conservation and the outdoors lifestyle. The Future Fisherman Foundation (F3) operates under The Bass Federation (TBF) umbrella of companies and is the official non-profit education arm of TBF. For more info visit futurefisherman.org.