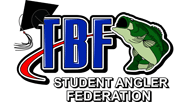 Ponca City, Okla., (Nov. 16, 2010) The Bass Federation announced today the High School Fishing World Finals will return to Russellville, Ark. at Lake Dardanelle. High school stars from TBF's Student Angler Federation will once again be invited to this "no entry fee" championship event at Lake Dardanelle State Park, July 18-23. Last year, 184 high school anglers from 18 states showcased the top high school talent from all over the country. The field is expected to grow substantially this year as the number of Student Angler Federation School clubs continues to rapidly grow. Winners can expect college scholarships, prizes and an invitation to fish the BoatUS Collegiate Bass Fishing National Championship out of a custom wrapped Ranger boat!
Russellville Tourism, Dardanelle State Park, and the Arkansas Game and Fish Commission will again play an active role in hosting the event with a variety of activities for anglers and their families. "Russellville is proud to sponsor the TBF High School Fishing World Finals for the second year," Director of Tourism for Russellville, Christie Graham, stated. "We look with anticipation towards the 2011 event coming to Lake Dardanelle. We know this event is going to grow even larger than last year and can't wait to see what's in store for these high school anglers."
The High School Fishing World Finals is one of the most unique fishing tournaments in the country. It combines not only fishing in a tournament format but also an educational component as each angler is required to pass a written test on angler ethics, boater safety and invasive species. The results add bonus ounces to their weights, which can impact the final outcome.
"Last year's inaugural event was awesome, beyond our expectations," TBF President, Robert Cartlidge, said. "Our team is excited and prepared to handle as many teams that wish to come to Russellville. We also have a new and exciting wrinkle to this year's event as we will host a consolation tournament on the final cut day. It will be another unique first in the industry. Our sponsor partners have stepped forward and are offering all sorts of fun prizes and contests for those teams who don't make the final day cut. Combine that with the TBF's education-oriented prize packages and it will certainly be worth a trip for the entire family to Russellville, Arkansas the week of July 18-23."
The 2010 champions from Meade County High School in Kentucky walked away with $32,000 in college scholarship offers and prizes. Additionally, they will be representing High School Anglers nationwide in the largest college fishing event in the nation, the BoatUS Collegiate Bass Fishing National Championship May 23-27 on Lake Lewisville Texas. This year's event will have even more of the same funding, bigger prizes and echo the SAF's theory of promoting educating through fishing. "If you think the event was great last year just wait and see what we have in store this year, students will want to pay close attention to announcements that are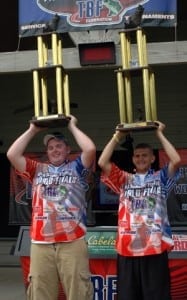 forthcoming." TBF National Youth Director, Mark Gintert, stated. "We're creating even more opportunities for our High School Anglers and their families through our Student Angler Federation, which is just another reason why it pays to belong to the SAF."
The High School Fishing World Finals is a low cost family fun vacation with activities centered in Russellville, Ark. and it's convenient location right off of I-40. There's plenty to see and do for the entire family. Lake Dardanelle State Park offers one of the top weigh-in facilities in the United States. All this will make for a fantastic week of family fun and fishing.
The Bass Federation Inc., (TBF) is the oldest and largest grassroots fishing organization in America. TBF is owned by those it serves and is dedicated to the sport of fishing. The TBF annually conducts over 20,000 fishing, youth, and conservation events and has provided the foundation for the bass fishing industry for over 40 years. For more information about The Bass Federation, visit bassfederation.com or call 580-765-9031.
For more information about the Student Angler Federation, how to get a high school club started in your local area and how to attend this year's High School Fishing World Finals, visit highschoolfishing.org or call 580-765-9031.