TBF Ranger Federation Bonus Program
The Ranger Federation Bonus program money is available in every state Federation, all 22 of the TBF National Semi finals and TBF Federation Championship to top Ranger Boat owner finishers. For this Federation Program, any Ranger Boat owners can qualify to win the cash bonus at Federation events!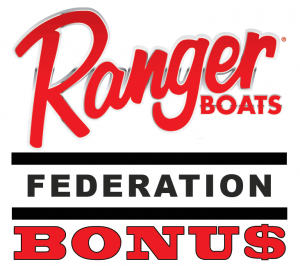 Wear your Ranger boat and Ranger cup clothing proudly each day of your event, fish the event from your Ranger boat, and be able t prove ownership.  With this Federation program, you do not have to be the original owner and there is no restrictions on what year model the boat must be. Here are each State Federation Payouts. Find your state, and find out how much you could win!
2022