Contributing writer: Rich Gerken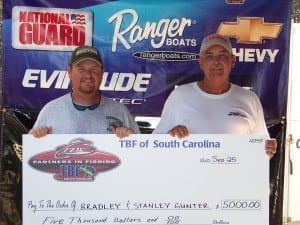 The Bass Federation of South Carolina held their 1
st
Annual "Mr. Lake Murray" Bass tournament this past Saturday out of Dreher Island State Park. In all 104 anglers would take to the lake to test their skills and compete for the $5000 first place prize. Lake Murray did not disappoint as many heavy bags would be weighed in.
A limit for this tournament would be 5 largemouth bass per team, at a minimum length of 14 inches. There were 23 limits brought to the scales. The top 18 places all had 15 lbs. or more. 137 bass weighing 456 lbs. total. But of course there could only be one winning team to take the $5000 check. The father and son team of Bradley & Stan Gunter took top honors with a winning weight of 24.15 lbs. Although they would not give up too many secrets, and who can blame them, top water baits and schooling bass in the middle section of the lake was important to their success. During the day they culled through more than 25 keepers to arrive at their winning limit.
The tournament attracted anglers from as far away as Florida but local talent seemed to prevail. Rounding out the top 10 places were:
Bobby Stanfill & Dusty Turner 23.75 lbs.
Al Fortner & Kevin Fulmer 21.86 lbs.
Joe Kastner & Jeff Woods 21.00 lbs.
Kevin Sanders & Michael Murphy 20.30 lbs.
Tony Postell & Sammy Landrum 19.92 lbs
Beau Dixon & Doug Lown 19.35 lbs.
Keith Henderson & John Long 19.09 lbs.
Philip Anderson & Russ Padgett 18.55 lbs.
Matthew West & Casey Hendrix 18.18 lbs.
Finishing in 11
th
place and taking the "Stan Sloan" Zorro Baits Co. Big Bass prize of $500 was the team of Chris Sample & Charles Wilkie. The big largemouth weighed in at 6.54 lbs. Although challenging at times, these impressive weights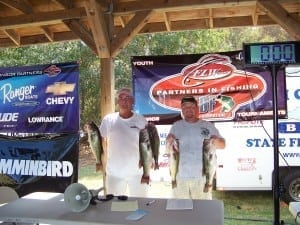 show that Lake Murray is healthy and a great place to fish.
 In addition to fishing there were sponsor displays and a casting contest for the kids, prize drawings and giveaways, making the day enjoyable for family members as well. TBF of South Carolina would like to thank all those that participated and the many generous sponsors for making this event possible. TBF would like to make this event bigger and better for next year as well as our regular points tournament trail. For more information please visit
www.tbfofsc.com
.