October 29, 2010 – The Southeastern Association of Fish and Wildlife Agencies (SEAFWA) is an organization whose members are the state agencies with primary responsibility for management and protection of the fish and wildlif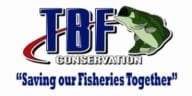 e resources in 15 states, Puerto Rico and the United States Virgin Islands. Member states are Alabama, Arkansas, Florida, Georgia, Kentucky, Louisiana, Mississippi, Missouri, North Carolina, Oklahoma, South Carolina, Tennessee, Texas, Virginia, and West Virginia.
SEAFWA held its annual meeting in Biloxi, MS, August 17-20, 2010.  The Fisheries Resources Committee (made up of the Fisheries Chiefs from SEAFWA states) held their annual meeting in conjunction with SEAFWA on Sunday.  The SEAFWA Fish Chiefs would like to thank The Bass Federation, Inc. for sponsoring the luncheon prior to the meeting.
A wide range of topics were discussed that were related to fisheries resources in the southeast.  The Southeast Cooperative Fish Disease Project provided updates on continuing education opportunities and ongoing research of new strains of Aeromonas bacteria that is causing problems in the catfish industry, and may potentially affect wild fish populations.
The National Fish Habitat Action Plan (NFHAP) was discussed in some detail.  The NFHAP provides guidance for the use of federal monies that are available for existing and new fish habitat partners.  The Reservoir Fish Habitat Partnership and the Southeast Aquatic Resources Partnership are examples of two partnerships that distribute federal dollars across the region for on-the-ground fish habitat work. 
The issue of lead in sport fishing tackle was discussed and the fish chief's were provided information from the policy committee on (1) the American Fisheries Society (AFS) lead in sport fishing tackle policy statement and (2) EPA's petition to ban lead sinkers.
Lastly, updates were provided by the American Sportfishing Association (ASA) and the Recreational Boating and Fishing Foundation (RBFF).
Next year's SEAFWA meeting will be held in Nashville, TN.  For more information on SEAFWA, visit www.seafwa.org.