Nelson, Wilson Tie it Up on Both Days to Seize the Lead; Co-Angler, Ray Blash, Brings in Biggest Bag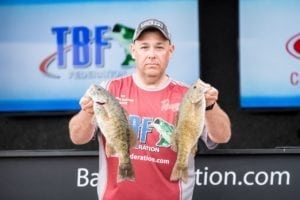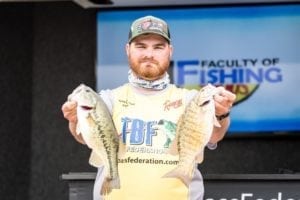 B J Nelson and Austin Wilson both brought five bass limits to the scales yesterday weighing 14 lbs 2 ounces, and for one wild turn of fate, followed it up with 13 lbs 9 ounces today to lead it with 27 lbs 11 ounces.  The field is tight, however, and with the weather roller coaster this week,  the final day can and will bring anything.  One thing is undeniable; the 2018 Federation National Champions will be crowned tomorrow on Lake Bull Shoals and they will certainly earn it.
Nelson, is from Kentucky and represents the Southern Division.   He made a trip to pre-fish with his Dad just after Thanksgiving and his honey hole is the same place they found, which is obviously still producing.
"The way it lays, I was thinking of spring time and where the fish would be in the Spring, and it happened to be that type of area," Nelson said.  "I had four this morning by 8am and caught 12 keepers both days.  I tried to leave outta there a little early each day and just let it rest."
This is Nelson's first time competing at the national championship but he's fished on and off with TBF since he was 16.  He's also fished other high profile events and recently won a boat.  Tomorrow, he'll be looking to keep the fire alive.
Wilson is also making his national championship debut and is representing California and the Southwest Division.  He started fishing TBF two years ago inspired by the success story of Federation National Champion and California angler turned FLW Tour Pro, Mark Daniels, Jr.  He also mentioned how TBF has such affordable entry fees.
From a low cost tournament TBF has definitely produced.  He's got one more day to reap all the benefits and secure the $120,000 "Living the Dream" package.
"It's tied and tomorrow is a different day," Wilson said.  "I'm shooting for a limit but we have a pretty big cold snap coming in and I don't know what it's going to do to the fish I've been catching.
Anything can happen. I can go out and I can blank, that's fishing.  Hopefully, I'm going to go out and catch five; if it's meant to be, it's meant to be and I'll end up on top.
Co-angler, Ray Blash, from Missouri and the Central Division brought in the biggest bag of the day with 16 lbs 3 ounces.  Blash had a two day total of 22 lbs 14 ounces to seize the co-angler lead, advance to finals and punch his ticket to the 2018 BFL All-American.
Although he's fished with the Missouri TBF since 2014, he's not local to this lake having only visited the Arkansas side of Lake Bull Shoals a couple times.  He's also a retired Army Veteran who retired in 2011 after nearly 23 years of service.
He thanked his boat captains on stage and again during the interview but when asked what he was doing different out there he said he'll keep that a secret until tomorrow.
"I just want to give a shout out to my wife and kids and also, the guys that I worked with on Fort Leonard Wood."
Tomorrow will decide it all as the 2018 Federation National Championship wraps up on Lake Bull Shoals in Flippin and Bull Shoals, Arkansas.
TOP 7 BOATERS – TOURNAMENT TOTALS
BJ NELSON – KY – SOUTHERN – 5 FISH – 27LBS 11OZ
AUSTIN WILSON – CA – SOUTHWEST – 5 FISH – 27LBS 11OZ
NICK DEERING – ME – EASTERN – 5 FISH – 26LBS 3OZ
PAT UPTHAGROVE – MI – NORTHERN – 5 FISH – 24LBS 26OZ
MIKE WEBSTER – AR – CENTRAL -5 FISH – 22LBS 14OZ
TOP 7 CO-ANGLERS – TOURNAMENT TOTALS
RAY BLASH – MO – CENTRAL – 5 FISH – 22LBS 14OZ
HERNANDEZ RUFFIN – WA – NORTHWEST – 5 FISH – 16LBS 3OZ
JESSE PARKS – AZ – SOUTHWEST – 1 FISH – 13LBS 15OZ
ADAM WALL – DE – MID-ATLANTIC – 0 FISH – 10LBS
CHRIS FRANCO – TN – SOUTHERN – 2 FISH – 7LBS 14OZ
DAVE BERG – MN – NORTHERN – 3 FISH – 7LBS 13OZ
SCOTT MCKAY – VT – EASTERN – 1 FISH – 5LBS OZ