California's Austin Wilson wins the National Championship and takes the TBF Living The Dream package, Ray Blash from Missouri takes the Co-Angler National Champions title.
April 14, 2018
By Dan Johnson
Undaunted by roller coaster weather conditions, falling water levels and intense competition, California's Austin Wilson turned three days of rock-solid springtime bass fishing into a $120,000 payday at The Bass Federation's 2018 National Championship.
Held April 12-14 on Bull Shoals Lake out of Flippin, Arkansas, the event featured an elite field of 54 boaters and 54 co-anglers from across the continent, who qualified at 22 district competitions in the TBF's National Semi-Final system.
Thanks to the success of that recently adopted qualifying format, the field competed for an all-time record payout of nearly $300,000 in cash and prizes.
Top prize, awarded to the top boater, was the coveted $120,000 "Living the Dream" prize package, which included $20,000 cash, fully paid entry fees on the 2018 FLW Tour as a pro, travel expense stipends for each event and use of a "Living the Dream" wrapped Ranger boat and truck for the year and much more.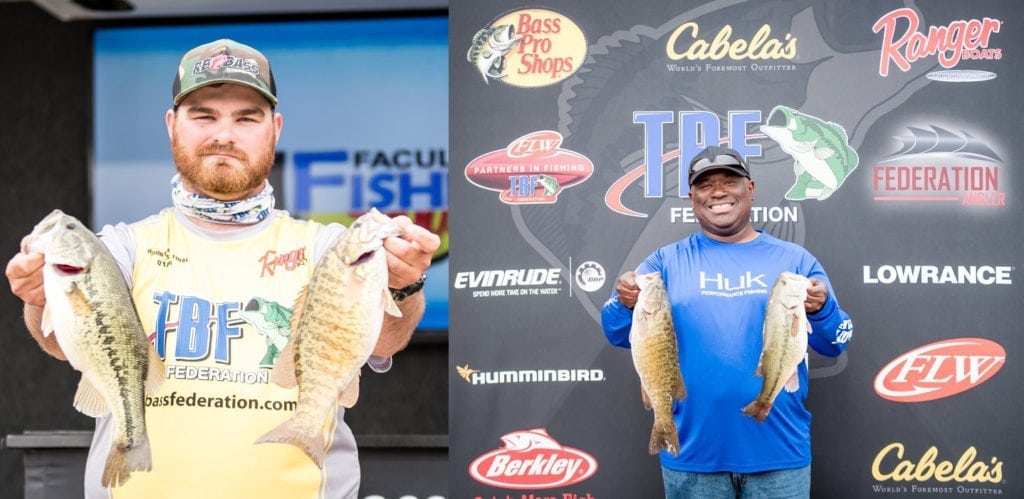 "Anglers practiced in their own boats Monday and Tuesday, then transferred their gear to brand-new, Evinrude-powered Ranger boats for the final day of practice," TBF President and CEO Robert Cartlidge explained. "Everyone fished out of these state-of-the-art Rangers on Thursday and Friday, after which the field was cut to the top boater and co-angler from each of the TBF's seven divisions for Saturday's final round."
Wilson's drive to claim "Living the Dream" winnings and ultimate bragging rights on the grassroots bass fishing scene began with serious research from his home in Citrus Heights, just outside Sacramento. "As soon as I found we were fishing Bull Shoals, I spent as much time as possible on Google Earth, dissecting the lake and getting an idea where I thought the bass would position to move in and spawn," he said.
Wilson's home waters include the California Delta, plus Folsom and Clear lakes, and although his favorite tactics are frogging and flipping, he's a firm believer in versatility. "I don't like to put myself in any one category," he says. "My weakness is cranking, but I still caught a lot of my fish this week on crankbaits."
In practice, he fished the lake stem to stern.  "Every day I launched and fished somewhere totally different," he reports.
Wilson started the championship with a 5-fish day one limit weighing 14 pounds, 2 ounces. The catch included a pair of largemouths that hit a compact Picasso Alabama rig near a bridge 25 minutes from takeoff at the Bull Shoals Boat Dock, and a trio of smallies taken barely a long cast from the ramp.
"I got the smallmouths on a Norman Little N in Reverse Green Craw," he says. "I was fishing chunk rock on a secondary point in 5 to 10 feet of water."
The weight put him atop the Southwest Division and within striking distance of overall leader Cody Huddleston of West Virginia, who brought 15 pounds, 9 ounces to the scale.
As he idled onto Bull Shoals the second morning, Wilson was in a dead heat with Kentucky's B.J. Nelson, who was representing the Southern Division. Wilson followed a similar game plan. Although the bridge failed to produce, a mix of A-rigs and cranking Little N's yielded all the keepers.
As fate would have it, both anglers turned in identical limits again on day two. Each weighed 13 pounds, 9 ounces to lead their divisions and the entire field with 27 pounds, 11 ounces.
Wilson stuck to the same game plan on day three. Again, the bridge was a bust. But his two-pronged crankbait and A-rig program yielded a respectable limit in 10 feet of water on secondary points near the weigh-in area.
"I didn't think I had enough to win it," he admits. Still, the 12-pound, 9-ounce basket was enough for a 40-pound, 4-ounce total that put him more than 3 pounds ahead of his closes rival.
"I'm ecstatic," he said after claiming the crown. "I've been fishing as long as I can remember, and ever since I was about 16 I knew this is what I wanted to do with my life. I'm thankful TBF offers an opportunity like this."
In fact, Wilson became interested in TBF after seeing fellow Californian Mark Daniels Jr. win the TBF championship and parlay the Living the Dream package into a professional bass fishing career—and he hopes to do likewise with his shot at the FLW Tour.
As icing on the cake, Wilson was rewarded with a brand-new Ranger Z-518 for being the event's top Ranger Cup-qualified boater.
On the co-angler side of the event, Missouri's Ray Blash won the Co-AnglerNational Champions Title with 10 bass for a 27-pound, 12-ounce total. Blash sacked 6 pounds, 11 ounces on day one, boated the field's heaviest basket on day two with a 16-pound, 3-ounce limit, and finished with 4 pounds, 14 ounces on day three. The recently retired 22 year veteran of the US Army, distanced himself from the rest of the co-angler field on the second day of the event when he weighed in a 16-03 bag from the back of the boat which was the second biggest of the entire event.
Blash received a $30,000 "Living the Dream" prize package with increased payout and fully paid entry fees into the FLW Series division of his choice. Vermont's Scott McKay earned a $5,000 cash award for being the highest-placing Ranger Cup qualified co-angler.
After day three, top boaters (listed with total catch) are:
Austin Wilson, California, 40-04, (15)
2. Pat Upthagrove, Michigan, 37-02 (15)
3. Brian Trieschman, Washington, D.C., 37-02 (14)
4. B.J. Nelson, Kentucky, 35-00 (13)
5. Nick Deering, Maine, 32-02 (12)
6. Mike Webster, Arkansas, 27-08 (10)
7. Loren Torok, Idaho, 19-03 (7)
Top co-anglers are:
Ray Blash, Missouri, 27-12 (10)
2. Jesse Parks, Arizona, 21-13 (7)
3. Hernandez Ruffin, Washington, 19-10 (8)
4. Adam Wall, Delaware, 16-06 (6)
5. Dave Berg, Minnesota, 11-05 (4)
6. Chris Franco, Tennessee, 7-14 (3)
7. Scott McKay, Vermont, 5-05 (2)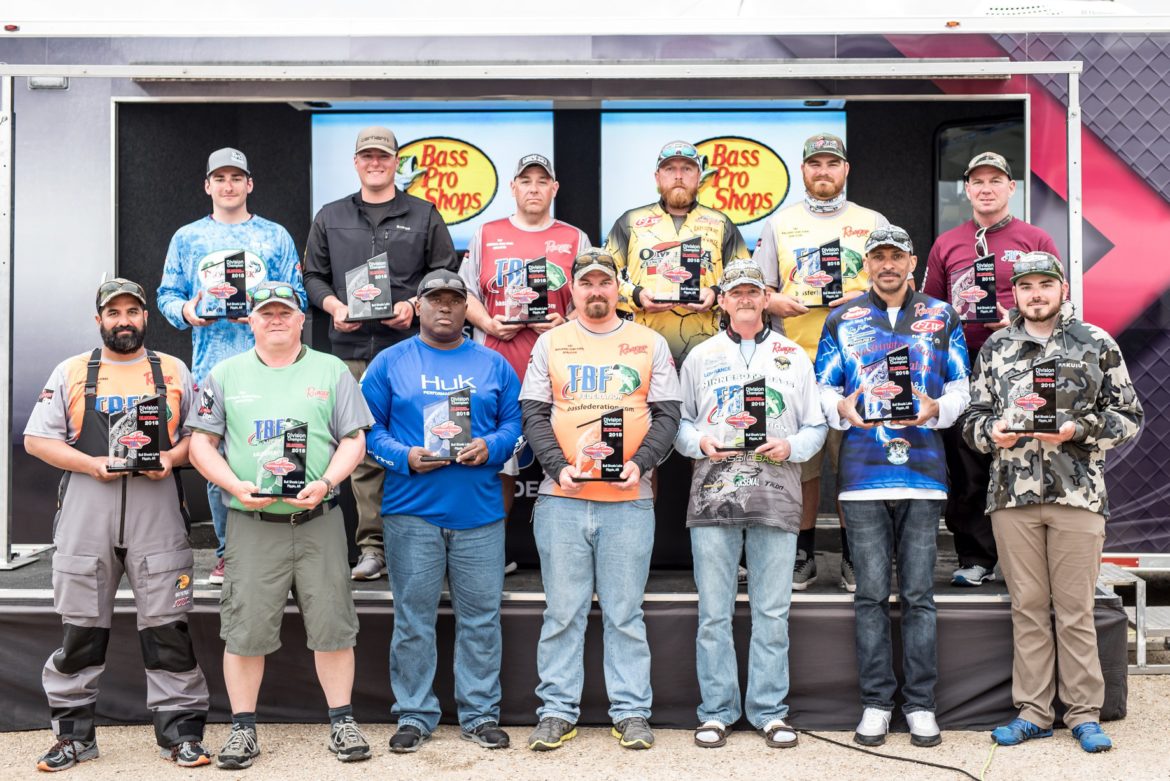 Overall, boaters and co-anglers brought in 31 bass weighing 85 pounds, 8 ounces today. Just three of the 14 finalists landed limits.
Coverage of the TBF National Championship was streamed live daily on bassfederation.com and will be broadcast nationally in high-definition on "Federation Angler," which airs on the Pursuit Channel.
The Bass Federation is a proud partner in fishing with FLW, which helps support this annual event along with other industry-leading TBF sponsors including Ranger Boats, Evinrude, Cabela's, Humminbird, Minn Kota, Berkley, Lowrance, T-H Marine and Power Pole.
For full results and payout info check out the tournament results page.