PONCA CITY, OKLA. (4/20/2020) – The Bass Federation Inc. (TBF) announced today that the 2020 TBF Junior World Championship (JWC) is set for July 29, 30, 31 on Mosquito Lake in Trumbull County Ohio.
The 2020 JWC includes a two-person team format and three days of competition. The TBF Junior program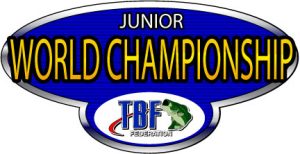 includes all anglers 15 years old or under as of Aug. 31, 2020 who fished through their home state federation's Junior program to qualify. Only the top Junior team from each state is invited to attend.
By its very nature fishing out on a lake away from everyone is social distancing. Regardless, event officials noted extra safety steps will be taken. Conference invitee's who happen to be in a covid restricted state or area at that time or those who are at risk or simply choose to, will stay home and access conference content digitally. Federation officials have worked with health experts to develop COVID-19 compliant conference, weigh in, meeting and other safety measures that will be used during events across the nation for as long as needed. TBF officials noted these safety measures will help keep participants and communities safe while still doing their part to help ease the economy, people and businesses in our country back to work.
Historically, the Junior World Championship (JWC) is held in conjunction with other prominent events. TBF announced that a Big Fish event and the Federation's Annual State Leadership Conference will also be hosted with the JWC in Cortland and Warren, respectively.
The Annual TBF State Leadership Conference invites 49 TBF affiliated state federations in the US and Canada to send their state official(s) to attend meetings on fishing, youth and conservation items, strategic planning, educational sessions, how to operate their local & state events safely in the era of COVID-19 as well as annual elections of TBF national directors.
The North American Bass Challenge (NABC) will host a premier Big Fish Event at Mosquito Lake on Saturday, August 1, with a top prize of a $10,000 prize package for the single biggest bass caught. The Junior angler and Parents, federation state officers and all bass anglers from surrounding states can fish this event which is open to the public!  For info go to NorthAmericanBassChallenge.com
Beth Carmichael, Executive Director of Trumbull County Tourism, says, "We're thrilled to welcome anglers from around the country here to Mosquito Lake, Ohio's premier bass fishing location!  In addition to the excitement of these "top-in-class" competitions, Carmichael says, the area offers fantastic opportunities for family and friends who travel with the competitors, including kayaking the Mahoning River, area playgrounds, golfing, and disc golfing at one of the 20 golf courses located in the area.
Carmichael continues," The Eastwood Mall Complex not only offers a variety of shopping and dining options, but there are also two movie theaters, a trampoline park, and creative opportunities at their one of a kind shops."
"We're excited to hold this event in Cortland, Ohio on Mosquito Lake." TBF President and CEO Robert Cartlidge said. "It is a new location for us but Mosquito Lake is a top-rated Ohio destination and a great place to host our events. There is a lot in the area for our attendees to do and Trumbull County is rolling out the red carpet for them."
Many of today's top pro anglers started in the TBF Junior program.  A few examples are; Jacob Wheeler (IN) fished the 2006 JWC; Shane Lehew (NC) won the 2007 JWC, and 2017 Forrest Wood Cup winner Justin Atkins (MS) in the 2008 JWC.  More recently, 2020 TBF Federation National Champion Living The Dream angler Lance Freeman (KY) started out by fishing the TBF Kentucky Junior program.
About Trumbull County, Ohio – Trumbull County is midway between Cleveland and Pittsburgh and about an hour from each.  It's home to Ohio's second-largest inland lake, Mosquito Lake; 44,000 acres of outdoor recreation space including State Wildlife Areas, Pymatuning Creek, a State designated Wild and Scenic River, and the Mahoning River.  It's also home of the nation's fourth-largest Amish community; the first luxury car built in America, The Packard, was invented in Warren; And it's the birthplace of the 25th American President, William McKinley in Niles.
About The Bass Federation – The Bass Federation Inc., (TBF) is a member of the Freshwater Fishing Hall of Fame. TBF is owned by those we serve and dedicated to the sport of fishing. The Federation is the largest and oldest, organized grassroots fishing, youth, and conservation organization there is. TBF, our affiliated state federations, and their member clubs conduct more than 20,000 events each year and have provided a foundation for the entire bass fishing industry for nearly 50 years. TBF founded the Student Angler Federation and the National High School Fishing program in 2008 to promote clean family fun and education through fishing. Visit bassfederation.com or highschoolfishing.org and "LIKE US" on Facebook.
###