Grand Lake Hosts 2020 National Event Boasting Over $380,000 in Record-Breaking Prize Pot
Grove, Ok., March 14, 2020 – The Bass Federation's top anglers from across the nation and Canada traveled to Grand Lake O' the Cherokees in Grove, Okla., this week for the 2020 Federation National Championship.  108 TBF anglers had their sights set on the National Champion titles, lucrative "Living YOUR Dream" boater and co-angler champions prize packages, Ranger Cup contingencies and cash prizes in the events $380,000-plus, cash and prize payout.  Two national champion anglers were crowned victorious and walk away with all the glory.
Lance Freeman from Kentucky held on to yesterday's lead to be named the 2020 Federation National Champion boater.  Freeman had five fish limits all three tournament days with 14 pounds 14 ounces, 19 pounds 8 ounces and 19 pounds 15 ounces to make his winning total 54 pounds 5 ounces.
"It's truly a blessing.  From the second cast this morning to the last; it's been a wild ride,"  Freeman told the crowd gathered at Grove today.  "I am blessed beyond belief.  On my way to Oklahoma I had this feeling.  It's an unrealistic feeling, surreal, God feeling that something was going to go my way.  Practice was tough but then the first tournament day everything went right.  The whole week to here it was just like tunnel vision."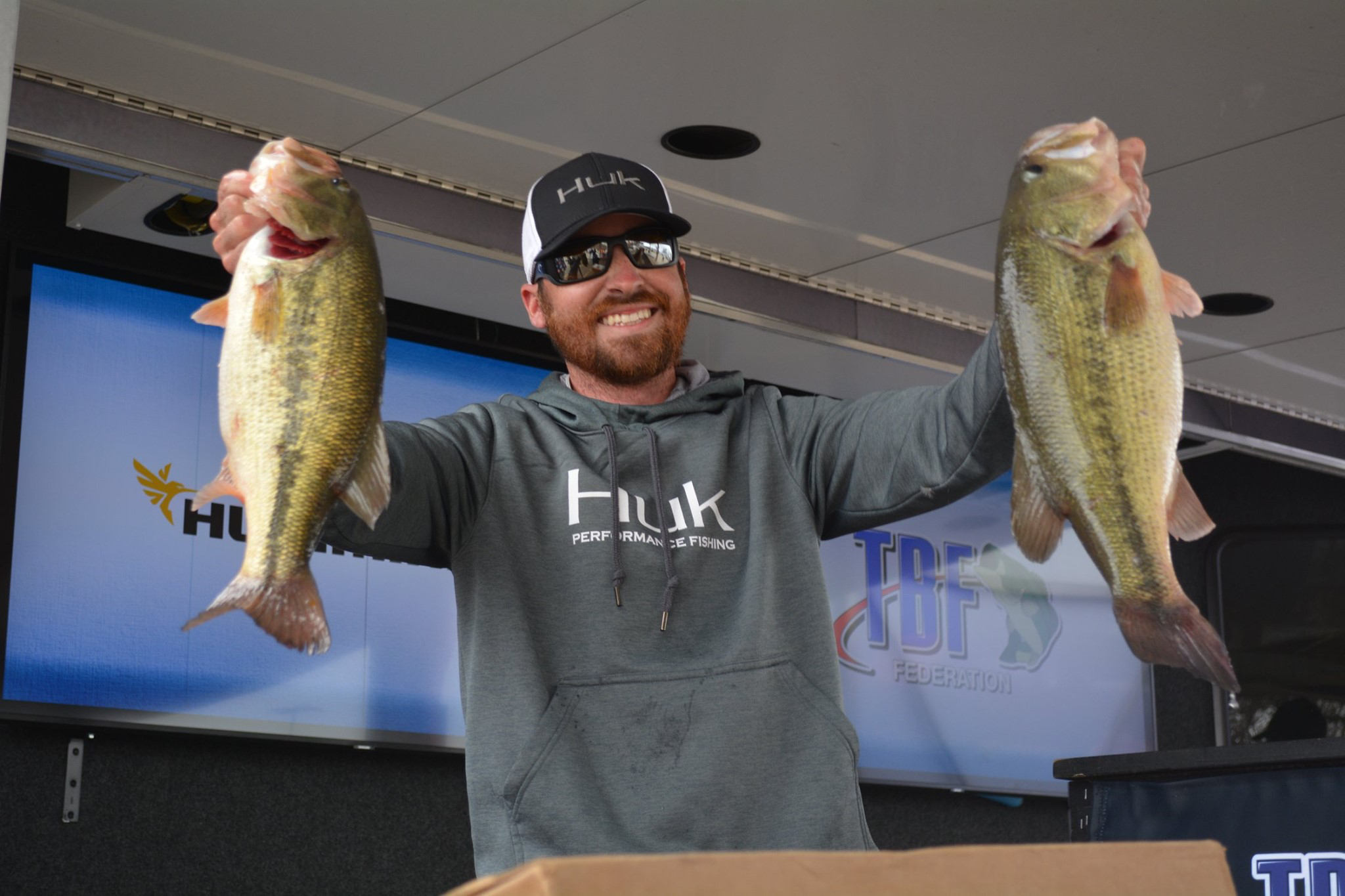 Freeman was awarded the "Living YOUR Dream" boater prize package valued at over $125,000 including a 2020 Ranger Z520L with Evinrude 250 G2, fully loaded with Power Poles, MinnKota trolling motor, Lowrance electronics, TH Marine locker bar and a custom Ranger trail trailer.
The package also includes $20,000 cash, $5,000 entry fees into affiliated circuit of choice,  entry into FLW Series Championship which has a $200,000 top prize, a reserved slot in the 2021 FLW Pro Circuit and berth in the 2020 BFL All-American with travel and housing stipends and guaranteed payout with $100,000 top prize at that event as well as clothing package and more.
"Today was a miracle.  On the last cast of the day I was just fishing stuff that looked good around Elk river even though I caught most my fish on the south end of the lake and caught the great big ole fish there," Freeman said.
"It was about 6, 6 1/2 pounds.  It's like you look and its the ten seconds of eternity you have. One of those moments the sun was shining on you.  The biggest breaths of fresh air.  I'm speechless in so many ways and so thankful for you guys."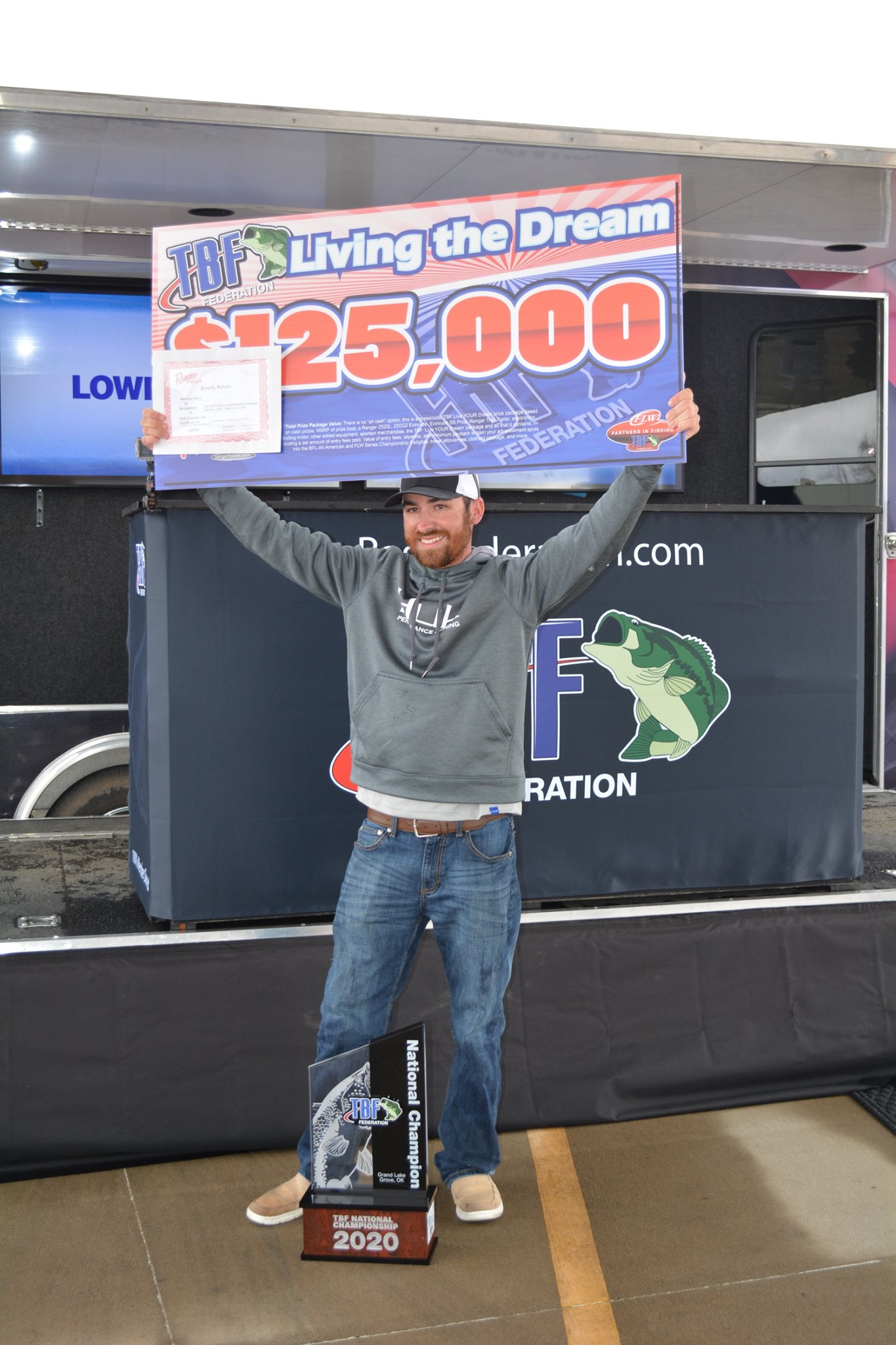 Freeman and President/CEO, Robert Cartlidge, spoke on stage about the caliber of angler that stands the test over and over again.  The kind of angler Freeman is and the style he's displayed since he adapted fishing over 13 years ago when he started fishing TBF's junior program.

Fish your strengths, fish the way you like and number one have fun doing it.  A style he still puts in play today. 
"I'm not the big guy wearing the jersey pushing around – everyone look at me- I'm just a boy that likes to go fishing.  I had a blast with all of my co-anglers.  Every day, it was about having some fun and fishing, making the most of every moment. 
Today, we caught our limits about 20 seconds apart around 9am and then we were just sitting there having the time of our lives in the pouring rain."
Freeman joins the ranks of TBF success stories across the nation.  He started in TBF's junior program at 11 years old and still remembers his first TBF tournament.  He also advanced to the TBF Junior World Championship.  Now, 13 years later, he holds the title of Federation National Champion.
"For the first time in my life I think I'm speechless. I've been calling every fish a blessing all week,"  Freeman continued.  "Thank you so much TBF. I grew up with this support and I love this sport for what it is, fishing.
I'm still in shock.  I mean, to look out in the crowd and see the people that literally brought me up in the same organization, to be sitting right there, the guys who took me out fishing when I was little.  Words can not describe that feeling." 
The National Champion Co-Angler, Derick Pendleton, lead the event from start to finish.  Pendleton celebrated his birthday catching the biggest bag of day one with  20 pounds 5 ounces.  Yesterday, he caught two fish for 4 pounds 2 ounces.  Today, he brought in another five bass limit for 11 pounds 15 ounces to make his tournament total 36 pounds 6 ounces.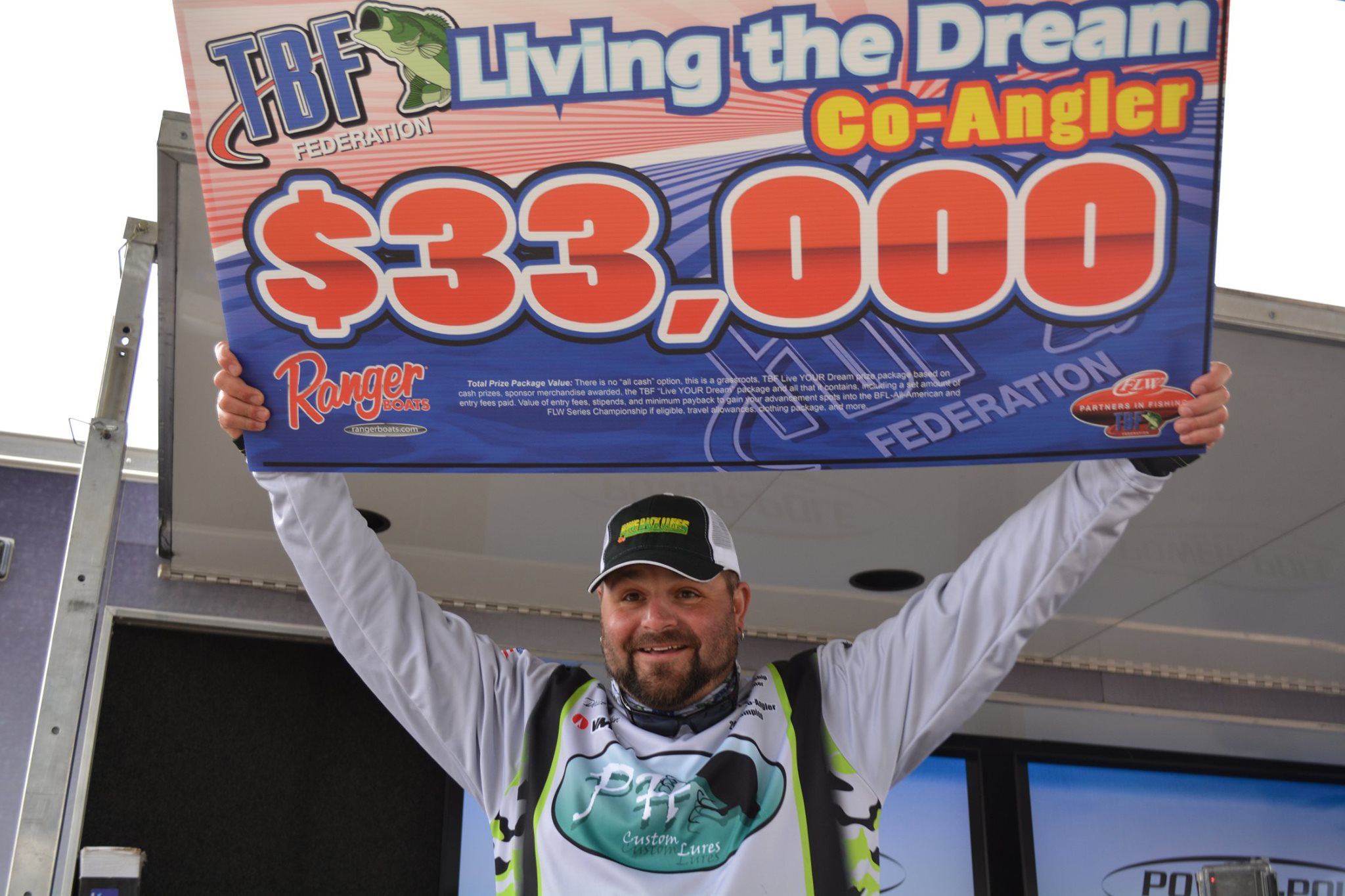 "It's been phenomenal.  I had a great day on the water today," Pendleton said.  "I struggled yesterday, had a little setback.  I'm not going to lie.  I was so nervous only having an 8 ounce lead coming into today.   I didn't know where it was going to land me.
But, today was more like the first day out there for me condition-wise.  I had a limit by 8:57am and I was culling by 9 o'clock.  We caught fish all day." 
It's not Pendleton's birthday anymore but it's beginning to look a lot like Christmas.  He was awarded the 2020 "Living YOUR Dream" Co-angler prize package valued at over $33,000.  The package includes $20,000 cash, $500 BassPro Shops/Cabela's gift card, a PowerPole Certificate, MinnKota trolling motor, clothing package and entry into the FLW Series Championship with top prize there of $30,000. 
Pendleton also received a berth in the 2020 BFL All-American with travel and housing stipends top prize of $50,000 plus $5,000 of paid entry fees into the affiliated circuit of his choice.

"It's literally living the dream, this is…this is a dream for me to do this.  TBF gave me this opportunity and it is just incredible.  I'll be pulling into Indiana around 3 o'clock in the morning and I don't care, every body will know I'm home." 
Pendleton is representing Indiana's Hoosier HogHunters and the Northern Division.  He's already making plans to fish the BFL All-American. 
"No matter what, I'm not passing this opportunity up.  It's a dream I've always wanted and I'm going to live it how I want to right now.  It's a dream, holy cow, and I'm going to live it." 
For the first time in event history, Ranger Cup contingencies will be awarded to the top five Ranger Cup qualified TBF boaters and the top 5 TBF co-anglers.  The top five boaters will awarded $2,500, $2,000, $1,500, $1,000 & $500 and the top co-anglers will receive $2,000, $1,250, $750, $500 and $250.
The top Ranger Cup qualified boater was, Sam Heckman, from Pueblo, Colo.  Heckman had a five bass limit today weighing 16 pounds 10 ounces making his tournament total 35 pounds 14 ounces.  He was awarded a $2,500 Ranger Cup voucher for his efforts.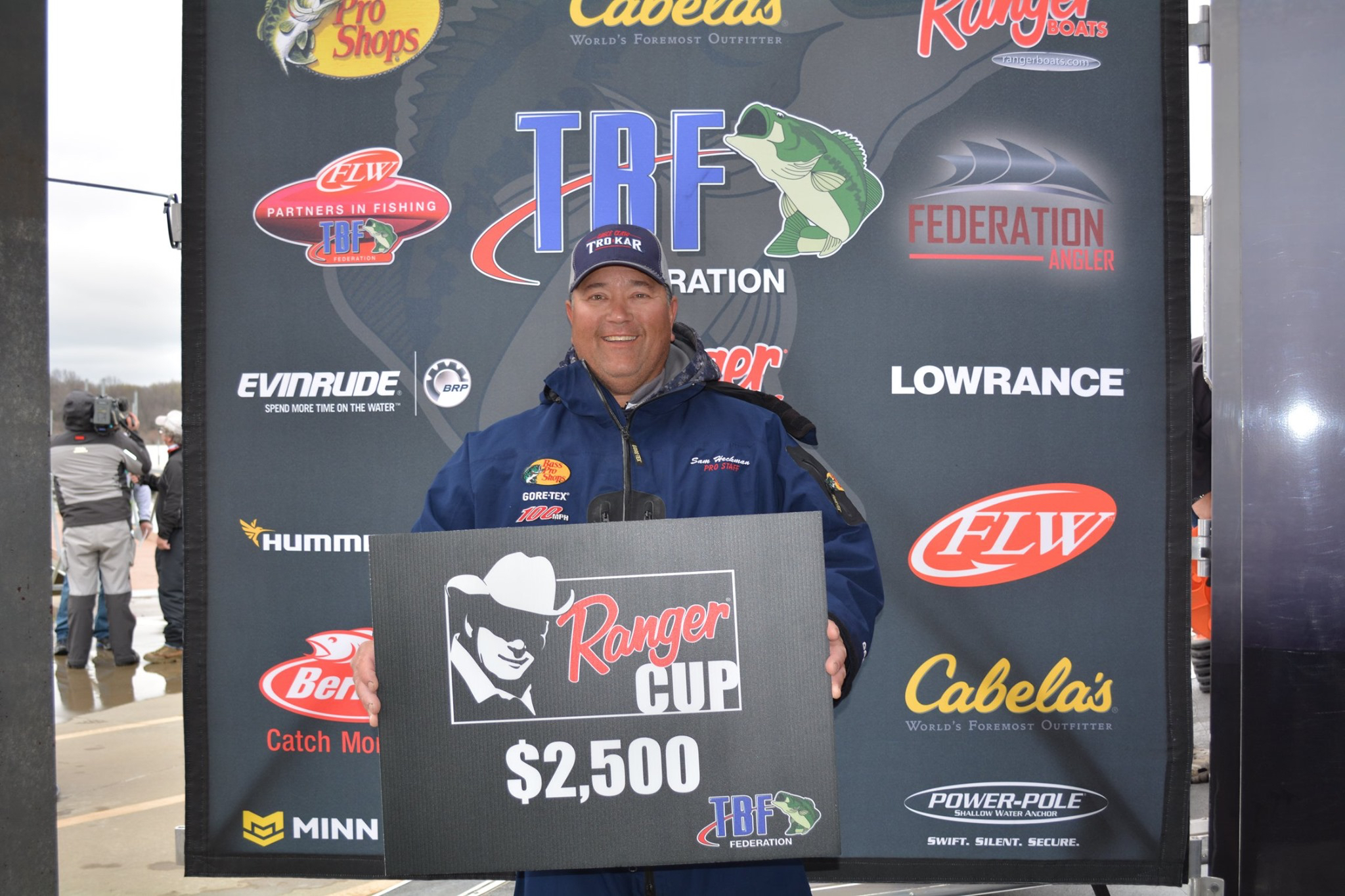 "I got 5 bites today and I caught all 5," Heckman said.  "I just love what TBF does for everybody, especially the juniors and high schoolers.
I run the Southern County Junior Bass Club.  I'm hoping they're watching this and one day they can be here doing the same thing I'm doing right now.   What TBF provides for us, the platform they give us, we wouldn't have the opportunity we do without their support and the staff what they do is amazing."  
The top Ranger Cup qualified co-angler was, Mel Marchese, from Washington representing the Northwest Division.  Marchese had a tournament total of 22 pounds 11 ounces and was awarded a $2,000 Ranger Cup voucher.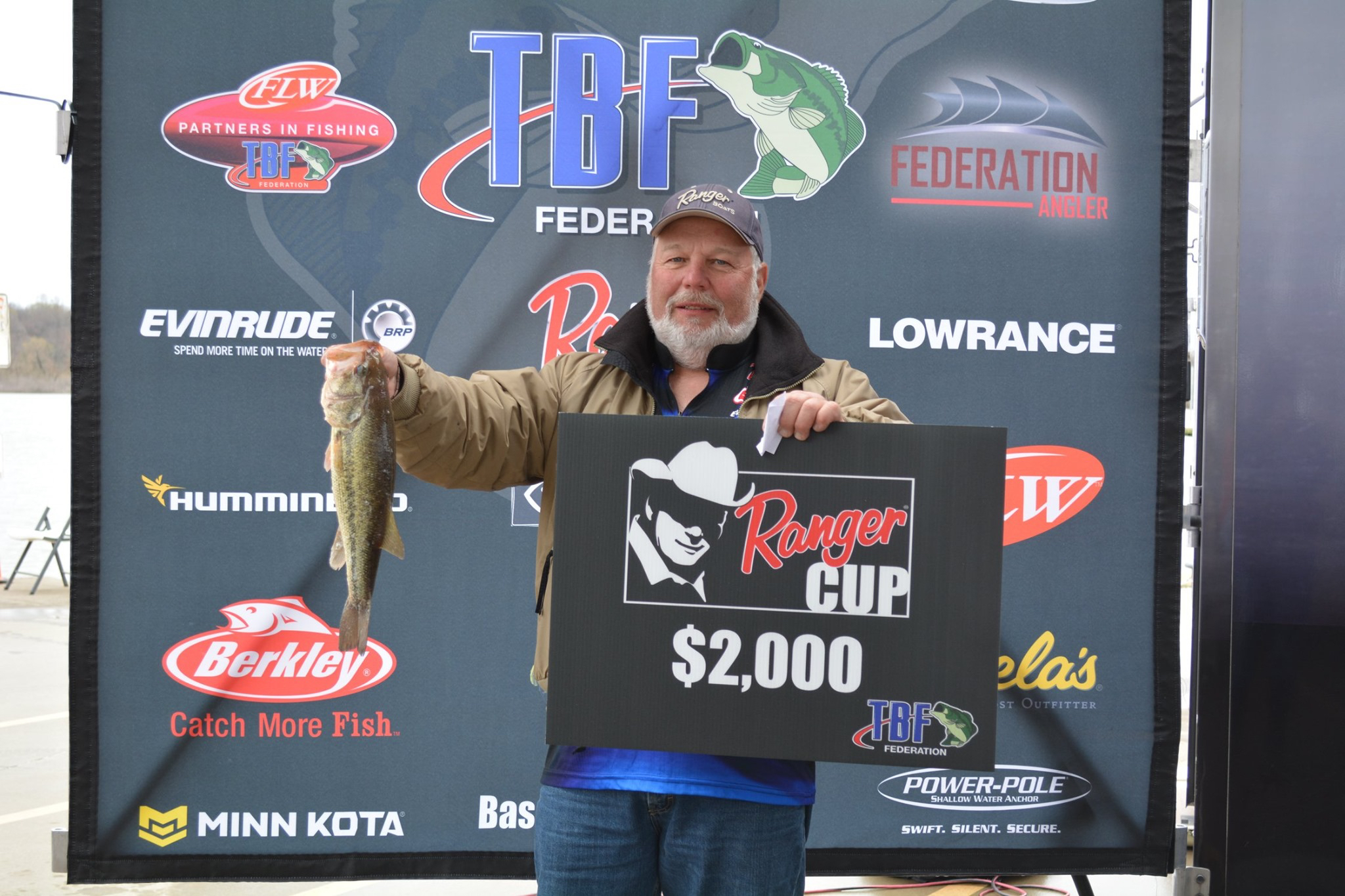 "This is a dream – 30 years and I've finally made it,"  Marchese said on stage.  "Every one out there just keep trying.  Thirty years and it can happen, some day it will all come together."