Submitted by: Rich Gerken
The Bass Federation of South Carolina held it's 6 Man Team tournament on Oct. 16th & 17th at Clarks Hill Lake. The format consists of each of the member clubs sending their best 6 anglers to compete to be the champion club. Also at stake are the final two spots on the state team, that will travel to Kentucky next June for the Southern Division Championship.
Clarks Hill has been challenging for most that have fished there recently and this weekend was no exception. Smaller bass were abundant but the larger bass were mostly impossible to find as the weights will show. The hydrilla is flourishing in this lake and seemed to be the key to finding bass. There was very little schooling activity present. Humps and points with vegetation as well as shore lines of grass were the places to concentrate on. Secondary points were also good as the migration of baitfish is starting toward the back of the creeks. The most successful tactics were reported to be Drop shotting and plastics around the grass. Also swim baits and small moving lures in the same areas.
The winning team was Saint Andrews Bass Anglers consisting of Billy Wilson, Pete Brantley, Herman Vining,Terry Thomas, Kenny Grimes and Wayne Holcomb. Their total weight for two days was 50.98 lbs.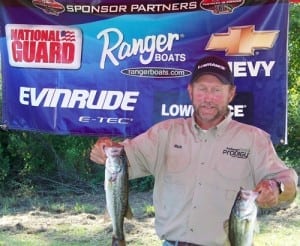 In the individual category the overall tournament winner was Rich Gerken of Prosperity, SC. His total weight of 13.65 lbs. will make him the final boater on the state team. The final spot on the team was anchored by John Sturkie of Swanse, SC at 12.57 lbs. In all there were 288 largemouth caught with a total weight of 180.8 lbs. with an average weight of 1.25 lbs.
TBF of SC will have their 2011 schedule out soon. For more information please visit www.tbfofsc.com